Playground Theory are a good band indeed, holding one ace, Marcy's voice.  A very good singer with a character leading dream pop through cinematic, and sometimes even to psyche paths. Having released 2 LP's   'Speaking Of Secrets' (2013), 'Connect The Dots' (2016), both on Puzzlemusik, they are hitting the stage on 26 March at Romantso club downtown Athens, with Magenta Flaws, on a pretty interesting trip. I'll be there cause I'm curious on how they sound live and there's something whispering me that it's gonna be more than just a good live. So, see you there, and don't forget : support local underground artists, give'em the air they breathe.
Hello Playground Theory, welcome to Last Day Deaf! You are hitting the stage with Magenta Flaws on 26 March, so give us the news please, what's that live gig all about, and what are we going to experience on that night?
Two bands from Athens in their creative peak come together for a live performance at Romantso. Playground Theory are recording new material, after their two studio albums and Magenta Flaws have just released their incredible debut album 'Corridor'.  On Sunday you can travel with our dreamy sounds, having a night less ordinary filled with great music and friends.
You are active since 2009 with 2 LP's so far, your latest 'Connect The Dots' was released in 2016, is it early yet to talk about new musings?
Not at all! We have already started recording new material and are currently writing new melodies and lyrics. You will surely hear something new from us this Sunday and we'll hopefully release some new tracks this year.
You are tagged as dream-pop, psychedelic, but we'd like you to share with our readers few words, regardless the music styles, in how do you consider your music…
One can find various influences in our music.  We like to mix and combine elements to create a unique sound for each song. What they all have in common, however, is a cinematic -daydreaming feeling.
…And what is art, and where do you place Playground Theory in the vast music universe?
Art is to express yourself and at the same time communicate with and engage your audience.  Each work of art, or song, becomes something different for each one, once interaction has taken place. A song creates certain feelings and evokes strong images for the one who listens, transcending him/ her to another place, this is what art is.
Playground Theory is a rather tricky name, what's hidden in it, what is the band's "manifest"?
It's a name that implies the idea behind our band. Like a little kid that is taken to the playground for some time to play, we are all given a specific time in this big "playground" and are also free to decide how we spend it. The thing is that we usually forget this and behave as if we have all the time in the world, always postponing or deferring. But we must make the most of our time in the playground, so we don't regret it when it's time to leave.
Both your LP's have a diverse range of musings, and I'd like to ask what is really inspiring you in such songwriting and arranging?
Our everyday lives, visions and thoughts that trouble our minds and beauty that can be detected almost everywhere. I'd also add that nature and its movements play a big part in our songs, perhaps that's why there is a wide range of sounds.
I regard your lyrics as quite personal, tell us a few things about them, and how does a "poem" works in your music?
Most of the lyrics are taken from poems (usually written before the song by me, Marcy) and are adjusted accordingly. This sometimes works very well, but not always. They are personal, mostly encrypted images of very strong feelings in an attempt to be captured in time. Depending on the song, there have been instances when the lyrics had to be written again and again from scratch until the final output was satisfactory. Lyric writing, just like music composing, is very consuming and can be very frustrating and disappointing, when working for days on end without the desired outcome.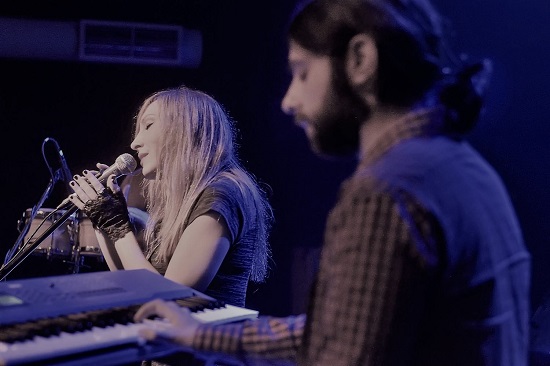 Playground Theory, among few other talented bands, are on the talks between the underground music fans. What's your viewpoint on the last 10 years flourishing scene in Greece? What has occurred in making musicians develop their bands, and actually sound international?
It seems that, during the years of the recession, there has been an enormous increase in high quality new music in various genres. A lot of talented musicians have taken their work a step further, raising the standards of composing, recording, mixing, producing and playing. Even though the majority of these musicians are forced to work on another field to earn their living, they act professionally when it comes to music.  Perhaps in times of crisis (of values mostly) we cling on to things that are truly important, things that matter; expression through music is definitely one of these.
Will you share a few releases you consider as masterpieces, that we'd possibly didn't pay attention to, few gems?
You mean last year's releases I guess. Last Day Deaf is always up to date with great new music and very interesting reviews. I loved Trentemøller's 'Fixion', Still Corners' 'Dead Blue' and Moderat's 'III'. As for newer albums, I really enjoyed Bonobo's 'Migration'.
Thank you PT, please give us your future plans, and close this interview as you like!
Our future plans are recording and composing new stuff. We also plan to appear on live stages in Athens and the rest of Greece. For now we are really excited about playing with Magenta Flaws on Sunday at Romantso! Can't wait to see you there!
Thanks for the nice chat and keep up the great music!
Photo credits: Lilika M (1st & 3rd one), Chronis Yiannopoulos (2nd one)
Mike Dimitriou