Column aiming to present 6 glowing with quality tracks, under the "future soul" genus; An amalgam of soul, contemporary R&B and even hip-hop and electronic elements.
-not to be confused with Daley's "Future Throwback Soul" term-
DMangelo – 'Its Love' (Feat. Sunde)
Quick pitch:
Dmangelo's latest collaboration with Sunde is a superlative mix of neo soul & hip-hop… A great track about love, life, and choices…
dynamic: ★★★★★/5
style: ★★★★/5
performance:   ★★★★★/5
Trivia:
Making music is proving to be one of the greatest stories, Cincinnati, Ohio born DMangelo has ever told. From writing poetry and erotic love stories, this up and coming music man and father of three started out working a million and one jobs. He felt driven to step out onto the world stage to make it a more beautiful place with Music. He went from selling cars to working at McDonalds, country clubs, dishwashing and more, but his love for writing and for music continued to call.
For DMangelo, music is like writing memories in a journal some good, some not so good, but an authentic expression of who he is and a culmination of experiences which all helps him to reach his destiny. For the Music Man writing keeps him sane and makes the world more beautiful.
Elaine Kristal – 'Tested'
Quick pitch:
Elaine Kristal is more than capable of unleashing tons of emotion, even though her lyrics are more raw than polished… This lady's been tested for the 2nd time, since this is her 2nd single, and this is another winner from the very first seconds… A stunning neo soul/indie r&b brew "about the bullshit we put up with when it comes to love". Adorable!
dynamic: ★★★★/5
style: ★★★/5
performance:   ★★★★/5
Trivia:
Elaine Kristal has oft been boxed in as many things: "the Puerto Rican girl who sings", "that bisexual chick who wears baggy clothes", "the loud, sensitive, insecure one". It took years of self-growth and discovery for Elaine to find herself, but now her purpose has never been more clear: to break free from the noise and reclaim an identity that is no one else's but her own.
At the age of 6, Elaine Kristal (born Elaine Colon) was introduced to the sounds of Boyz II Men, Blackstreet, and Prince by her father; bred into the music that would come to shape her life, Elaine is a true vocalist through and through. Her songs offer a healing component, striking a harmonious balance between soothing and fierce, pacifying yet rousing. Influenced by the likes of Usher, Brandy, (insert a rapper or modern R&B singer), Aaliyah, Justin Timberlake, and Def Poetry Jam performances, Elaine's music possesses a classic-R&B quality infused with a modern bounce, crafted by a sensual individuality that shines through in every aspect of her personality.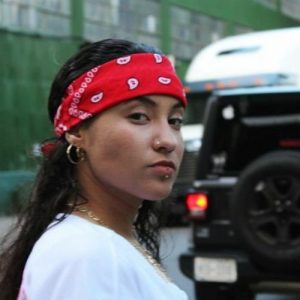 Falana – 'Sweet Adetola'
Quick pitch:
Canadian Nigerian up-and-coming Falana's 'Sweet Adetola' is the directorial debut featuring Nollywood actress Nengi Agoki, and it's taken from her recently released  'Rising' 7-track EP. Smooth, soulful and flawless…
dynamic: ★★★★/5
style: ★★★★★/5
performance:   ★★★★/5
Trivia:
Born and raised in the Ontario suburb of Brampton, Falana's upbringing was soundtracked by a diverse music selection that has shaped her penchant for genre-defiance. As soon as she was able to, she moved to Toronto to pursue music, and after a year of balancing day jobs and relentless gigging at night, Falana departed once again to Lagos in Nigeria. As she says, "In Lagos, everything started to make sense in my songwriting, even down to how I express myself with style and my hair", and she began to use her sense of style as an extension of her artistry more than ever before. Having recently moved to London where she has begun writing for her debut album, she believes she has come full circle and completed her musical journey.
Hailed as "Nigeria's coolest front row star" by Vogue, Falana stands out not only with her music, but also with stylistic expressions, and is known for her distinctive braid pom-poms, which have fans tagging her in fan art and pictures of their own hair, to which she says, "I feel like it's become this signature for me that's so powerful now". Falana knows the importance of disrupting the often-one-dimensional view of women that we're constantly shown by our newsfeeds. Falana says, "I think one of my main motivators is just being a different reference point – for African women, and women in general. I'm sexy, but I'm not selling sex. I'm different, but I'm still beautiful. I'm strong, but I'm soft. I care about how I am presented because what you see is what you know".
Chloe Moore – 'R.I.P.'
Quick pitch:
Chloe Moore sings with passion, soul and she's brave enough to combine neo soul, pop but also 'recruit' a full band for her latest retro soul pop, and deeply personal, treasure 'R.I.P.'.
dynamic: ★★★/5
style: ★★★/5
performance:   ★★★★/5
Trivia:
Chloe Moore is a soulful singer, songwriter, and producer from Dallas, TX. Since age 13 Chloe has been writing songs and performing in the DFW area. In 2013, she placed first in the R&B category of the John Lennon Songwriting Competition for her song "Yesterday." In 2015, Chloe placed in the top 20 of the International Songwriting Competition for her song, "Take it Slow." In 2016, Chloe was selected as the top up and coming artist, by the House of Blues Music Forward Foundation. In 2016 Chloe toured across the United States with Impact Meet and Greet, a social media and music performance tour. Chloe is currently studying Songwriting at Belmont University in Nashville Tennessee, where she is honing in on her writing and music production skills. With influences like Frank Ocean, Ariana Grande, and Daniel Caesar, Chloe's music is soulful and emotional with a modern alternative twist.
Kelsey Blackstone – 'Lay You Down'
Quick pitch:
Kelsey Blackstone's 'Lay You Down' is an ultra dynamic single with a powerhouse, soulful vocal performance, and  70's retro soul aesthetics and sound. Promising!
dynamic: ★★★★/5
style: ★★★★/5
performance:   ★★★★/5
Trivia:
Kelsey is a recent Berklee College of Music grad, who studied songwriting, music business, and music production. Kelsey has spent a collective 18 years being a multi-instrumentalist, playing piano & cello along with her vocal training. The United Nations and the Berklee College of Music have given her awards & honors for her songs for social change. Kelsey and her friends from Berklee started Hug The Tree Inc., which gives a voice & platform to Boston musicians while raising money for charitable local causes. She has also performed in many venues across New England–including Boston's Symphony Hall. She uses music of the 60s and 70s as inspiration to her exciting, diverse, soul-pop sound.
Bianca Jade – 'Everything I've Got'
Quick pitch:
Cuban-Jamaican singer-songwriter Bianca Jade returns with the captivating official video to her recent hit 'Everything I've Got'…
"Getting everything I want, Seems so far but I'm grinding and with timing I'll get everything I want / Giving everything I've got, I won't stop not done trying no I'm not done"
dynamic: ★★★/5
style: ★★★★/5
performance:   ★★★★/5
Trivia:
Bianca Jade is a Cuban-Jamaican powerhouse RnB/Soul singer and songwriter originally from Miami, Florida now based in New York City. Her music focuses on bringing light and empowerment to her listeners, especially women.
Influenced by soulful female artists such as Aretha Franklin, Whitney Houston and Alicia Keys, Bianca Jade began developing her craft the young age of nine years old. She later taught herself to play piano by ear and wrote songs at her piano starting at the age of fifteen.
[Note: All trivia sections provided by the artists]
"Soul Professor": Christos Doukakis