Good Manners (2017, Dir:

Marco Dutra

, 

Juliana

Ro

jas

)
Storyline
Clara, a lonely nurse from the outskirts of São Paulo, is hired by mysterious and wealthy Ana as the nanny for her unborn child. The two women develop a strong bond, but a fateful night changes their plans.
Trailer:
It (2017, Dir:

Andy

Muschi

e

tti

)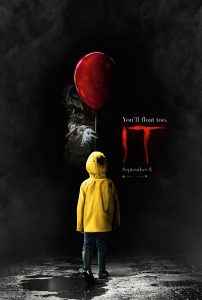 Storyline
In the Town of Derry, the local kids are disappearing one by one, leaving behind bloody remains. In a place known as 'The Barrens', a group of seven kids are united by their horrifying and strange encounters with an evil clown and their determination to kill It.
Trailer:
Bushwick (2017, Dir:

Cary M

urnion

, 

Jonathan

Milott

)
Storyline
"Bushwick" tells the story of twenty-year- old Lucy (Snow) and war veteran Stupe (Bautista). Texas is trying to secede from the U.S., and NYC is being used as a negotiation tool. Lucy meets Stupe after coming up from the subway into the military invasion of Brooklyn. Together they decide to cross the treacherous five blocks of Bushwick – littered with looters, local militias, the invading forces, and one crazy cousin – in order to get home and be reunited with Lucy's grandmother.
Trailer:
Mugen No jûnin [Blade Of The Immortal] (2017, Dir: Takashi Miike

)
Storyline
Manji, a highly skilled samurai, becomes cursed with immortality after a legendary battle. Haunted by the brutal murder of his sister, Manji knows that only fighting evil will regain his soul. He promises to help a young girl named Rin avenge her parents, who were killed by a group of master swordsmen led by ruthless warrior Anotsu. The mission will change Manji in ways he could never imagine – the 100th film by master director Takashi Miike.
Trailer:
Double Date (2017, Dir:

Benjamin

Barfo

ot

)
Storyline
Meet innocent Jim, terrified of girls, and on a reluctant quest to prove his manhood the night before he turns 30. He and his cocky friend Alex think they've hit the jackpot when they meet the beautiful siblings Kitty and Lulu, who seem up for anything on a wild party-fuelled night. But little do they know that the femmes fatales want to make Jim lose much more than just his virginity – Getting laid has never been so bloody difficult.
Trailer:
The Endless (2017, Dir:

Justin Benson

, 

Aaron Moorh

ead)
Storyline
Two brothers return to the cult they fled from years ago to discover that the group's beliefs may be more sane than they once thought.
Trailer:
Aknyeo [The Villainess] (2017, Dir:

Byung-gil

Jung

)
Storyline
Sook-hee is a trained assassin who was born to kill. She was just a little girl when the training started in Yanbian, China. After the death of her mentor, when the chance of starting a new life was given to her, she came to South Korea as a government agent. They promised her that she will be free after ten years of service. So she begins her new life as a theatre actress. But soon two men Joong-sang and Hyun-soo appear in her new life. And she started to find deep dark secrets about her past. Eventually she take matters into her own hands.
Trailer:
Mayhem (2017, Dir: Joe Lynch

)
Storyline
Matias Caruso penned the script, which tells the story of a virus that infects a corporate law office on the day attorney Derek Saunders (Yeun) is framed by a co-worker and wrongfully fired. The infection is capable of making people act out their wildest impulses. Trapped in the quarantined building, our hero is forced to savagely fight tooth and nail for not only his job but his life.
Director Joe Lynch on "Mayhem":
Bodom [Lake Bodom] (2016, Dir: Taneli Mustonen

)
Storyline