Void Droid is a heavy rock/southern metal band formed in 2012 in Patras Greece, by Andreas (vocals, guitars), Bill Herra (guitars), Aggelos Ulmo (bass), and Haris (drums). They released their debut album 'Terrestrial' in May 2016 receiving positive critics. On March 31st they are appearing live with Mahakala at KYTTARO Live Club in Athens.
Tell us a few words about Void Droid. Are you guys together since the beginning? How did the band occurred?
Hello there!! Void Droid were formed in October of 2012 when Haris and Bill met through an ad and decided to start the band. After that, Andreas joined as a vocalist and a couple months later, Aggelos, in order to replace the former bassist. So you could say we are pretty much together
some months after the formation of the band.
You released your debut album 'Terrestrial' last year and justly received positive feedback. If I am not wrong in this album various characters are presented. Do you draw inspiration mainly from the fantasy world regarding your lyrics?
The album features a number of different human-like characters, each one having its own story to narrate. These stories are based mainly on passions of the human side, so you could say that inspiration is drawn more from everyday human stories , rather than fantasy ones.
What you have presented so far as Void Droid is as a whole remarkable, but I must admit that I personally found the vocals exceptional, quite plastic and dynamic. Which are your main musical influences, and is there a vocalist Andreas looks up to?
Thank you very much for your kind words!
Our musical influences differ to some extent, but there are a few that are common between the members, such as Metallica, Alice In Chains and Down. As far as what vocalist Andreas looks up to, some remarkable references are Daniel Gildenlow, Layne Staley, James Hetfield, as well as a number of a little heavier guys from the black metal scene.
If it's not soon to ask, are you yet working on new material?
Haha! No it's not…On the contrary, we are working on a new album and we have already completed a number of songs and we must admit we are extremely happy with the outcome of the rehearsals!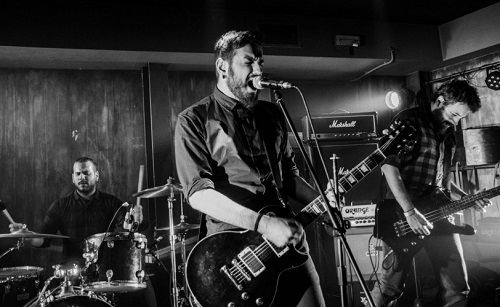 Regarding live shows you are quite active appearing in Greek cities. Do you also perform songs from other bands?
We are trying to stay as active as possible and we really love to tour around Greece and play our music to new people who don't have any idea who we are. We don't usually do covers , well , we did when we didn't have that many songs of our own for our setlist. We might occasionally do a cover just for the fun of it, especially if it's a song we cannot get out of our heads . As we can recall the last cover we did at a concert was 'Whiplash' by Metallica . Not the Droid type of song, but it's one of those all-time favorites.
Your song 'Praying Mantis' was included in the English edition of Metal Hammer. Has this opened the door for a potential live abroad?
Yeap it was! It was an awesome surprise for us getting a mail and be asked from an English magazine to include our song. The only release we had by that time was our demo, so it was kinda unexpected . It was a good time for the band, a lot of people who had no idea who we were had a
a Droid contact, and some might have heard the album if they followed us on social media etc. Not that much of a chance for a live appearance back then, but we sure got some followers from it and it was a big thing for the band.
On March 31st you perform at KYTTARO Live Club in Athens with Mahakala as headliners. What do you prepare for the audience to listen from you?
Our buddies Mahakala are throwing a party and we'll be there of course, along with the awesome rock n' rollers BUS the unknown secretary!!
We will play some songs from 'Terrestrial' or some stuff we don't usually play. We might throw in a new song for our friends in Athens! Only those who read this interview will know! MUHAHA!
Thank you for your time! Close this interview as you will!
Thank you very much for this interview and be well! Thank you all people for showing up when we do our thing!
-AK-
-Bill Herra-
-Aggelos Ulmo-
-Haris-
-We Are The Droids You're Looking For-
Photo credits: Aggeliki Mourelatou (1st one), Chris Lemonis (2nd one)
Mary Kalaitzidou