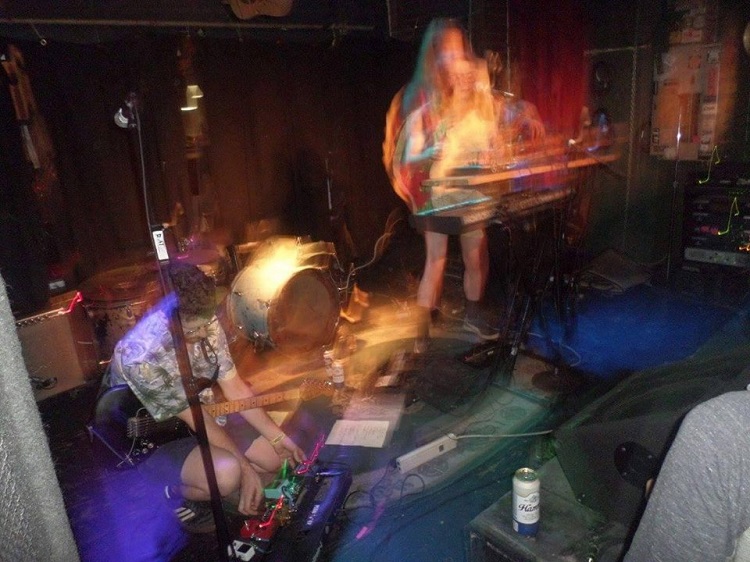 Kudzu are a post-punk synth-wave duo based out of Springfield, Missouri. Their most recent LP, 'Defeated', clocks in at half an hour long and is nine tracks of corrosive psychedelic-pop with industrial undertones. 'No Backbone', the lead single, has already been invasively acclaimed by critics. You can find 'Defeated' out via Push & Pull Records.
'Defeated' is the duo's third release.. Could you take us back to your formation? How did Kudzu come together?
We started out 8 or 9 years ago as a psych rock band with a more traditional line up of guitar, bass, drum and keys. We made a couple albums and a few tours before Geoff had to leave to be with his family and Jon became tired of touring. After that we started from scratch as a two piece and gradually became the band we are today.
Has the drum machine always been like that third member that's not quite a member but you don't have the heart to tell them? On 'Defeated' it's practically become a signature sonically.
Yeah we love our Boss DR-202. The whole thing would just fall apart with out it, because it doesn't just run drums, Seth programs the bass on it as well.
What is the DIY scene like in Missouri? It's been said most of the tracks off of your latest release were created from a place of disenchantment with the scene, correct?
The DIY scene in Missouri is great, we love DIY and the community it gives to people who need that support.  That doesn't mean it's perfect and it doesn't mean that predatory people don't exist in that space. We have dealt with abusive people in music before and it sucks. It sucks for the people who are deceived, it sucks dealing with apologists, and most importantly it sucks for the people victimized. It's enough to make you want to close your doors and never talk to anyone again, so I guess that's probably where the "disenchantment" comes from but we believe in the DIY community and think it's an important platform for a huge diversity of voices.
You've been compared to bands such as The Damned, Gang Of Four, and more often Public Image Ltd. What is the sort of sound you would like to inspire on your contemporaries and those who appear after?
The space that our music occupies in history isn't really a thing we take into account at all really. It would be pretty cool if somebody listened to our music and then they invented a new kind of flashlight or something. We hope our music inspires people to follow their dreams.
Give our readers the general zeitgeist and/or story behind a few of your most recent tracks in 5 words or less:
'Some Cops'.
Liberal Indifference to Systemic Racism – Seth
'No Backbone'.
Emotional Immaturity – Seth
'Defeated'.
The end of human decency – Mark
'Sleep In Disguise'.
Living a lie for survival – Seth
'When You Were Mine'.
I can't drink as much – Mark
What went into the music video for 'No Backbone', the lead single off the LP?
Good question, it just showed up on YouTube one day.  We had no idea who made that or where it came from but we thought it was pretty cool? A music blogger, Buried Muse, appears to have made and shared it. We do have a music video in development filmed in our basement on VHS by a local artist/dear friend, Shay Rainey.
On your social media you've commented on the number of murders caused by police officers this year already and have taken other "stances" politically.. In what way do social injustices play a role in your artistry?
We feel it is our civic duty to position ourselves in opposition to fascism, racism, and bigotry. We're not particularly a "political" outfit but we don't live in a void. Every day we should be reminded that civil servants are murdering the community they are supposed to serve and encouraged to do so (Specifically POCs). You shouldn't be able to go about your day comfortable with that.
'Rats In Technicolor Suits'. This track from 2015's 'Cairoglyphics' had me skipping directly to it because of the song title and then listening to the rest of the album in a state of rapture. What can be said of it in particular?
This was a really fun period in our lives when we played with Jon and Geoff. We learned a lot playing together and the 'Cairoglyphics' record was the product of the real chemistry we all had together. The makeup of the band was completely different with Mark on drums, Jon on guitar, and Geoff on bass. It was a pretty good album that we are proud to have been apart of.
The first 50 copies of 'Defeated' were released on a chrome cassette. How much music do you listen to yourselves in this format? Also, have you recently bought any cassettes or vinyl that might be of interest? What are Kudzu listening to?
We listen to tapes daily in our cars and homes. We got a tape from a band in Minneapolis called No Kim that is amazing and we recently played the tape release show of our friends Wood Chicken from Madison.
What does the rest of 2018 have in store for Kudzu? Possibly some live gigs?
We are booking some short tours this spring and summer and hope to book a longer tour this fall. As soon as we get our hands on another DR-202 we will begin workshopping some new material and an album shouldn't be too far behind.
Photo credits: Shay Rainy (1st one), Chris Bown (2nd one)
Sarah Medeiros