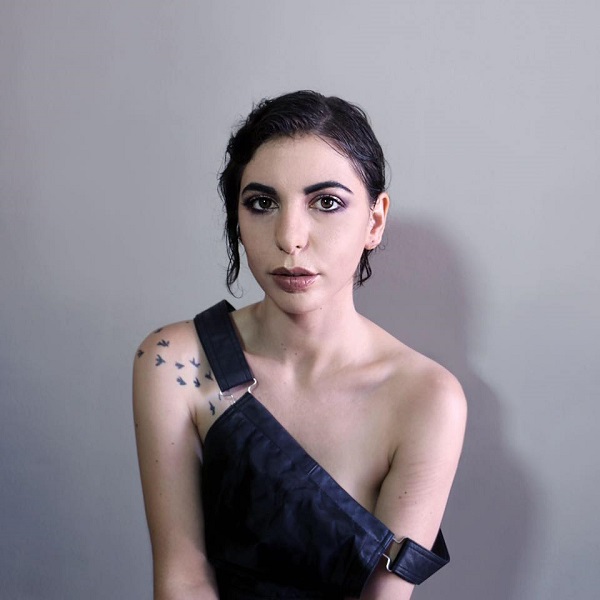 Los Angeles based artist and composer KANGA's self-titled debut LP was found amongst many the "best of 2016" albums' lists, with her "hyper-surreal objectification of cold-observations". Tracks such as 'Something Dangerous' are luscious dark pop, like Robyn at her peak immersed amongst industrial sounds, and 'Dissonance' in which things start to take a more ominous tone, clutching on to the soothing vocals, is a treat to the ears. She will be performing along with Cubanate, Empirion, Je$us Loves Amerika, and Cease2xist on April 28th & 30th as part of Brutalism UK 2017. 
Feel free to introduce yourself to our readers. Where did KANGA begin?
I'm a painter who doesn't see well so I work with sound instead. This project is my attempt at psycho analyzing myself in a subversively catchy way.
Your track 'Vital Signs' which is reminiscent of 90s industrial but in a fresh, rejuvenated way, features the line 'perfection is a state of mind'. Do you think as an artist you strive for perfection? 
I think a lot of us suffer from perfectionism being that we live in a culture where you are constantly told to frame yourself as meticulously as possible for optimal self worth. So I kind of struggle with not buying into that mentality but understanding that it's unfortunately the climate we exist in now. I have a lot of thoughts on culture and materialism and our relationships with ourselves and I think 'Vital Signs' was my first attempt at hashing some of those feelings out.
Your debut was up against David Bowie's 'Blackstar' for last year's Best Album of 2016 in Auxiliary Magazine. How surreal is that? Do you have many pinch-me moments or are you starting to be unfazed by it all?
Honestly, I'm still surprised when anyone talks about me. I'm glad the album has been received really well but I still get caught off guard whenever I get any accolades.
You've worked on the music for films such as 'The Conjuring II', 'Insidious III', 'The Devil's Carnival II', and 'Nightmare'. Are you only slightly aware of the storylines before going ahead or do you watch scenes and get a feel for it that way? How does this process usually work?
Technically I am the composer's assistant. So I don't have that mountain of responsibility on my shoulders. But Joseph Bishara, the composer I work with, has been a very inspirational and supportive figure for me creatively. Working on those films with him has taught me a lot about conveying mood and storylines with music. It's kind of transcendent being on a recording stage with a 55 piece orchestra.
You're outspoken on issues like animal abuse, feminism, and other social/political injustices, how do you think these matters effect your artistry?
I'm maybe too opinionated for my own good, but I also recognize that screaming into a vacuum never accomplishes much. I would say that I'm an activist insofar as I hope that my music will spark some dialogue in others, but I mostly convey my social and political thoughts in a tongue-and-cheek or facetious manner so that I can remain more of a commentator rather than a preacher.
Where do you find lyrical inspiration for your songs?
That's probably the most difficult part of this project for me. I really don't complete a song until I have a complete thought hashed out and that's actually pretty rare if you compare that to my tracks that are just instrumentals. It's harder to find my figurative and literal voice so I bounce between trying to come up with ideas from just playing the piano or designing a sound that correlates to a particular thought I'm having.
'Tension' might just be my favorite track from your debut, though it's difficult to choose. What's the story behind this song? 
That's my "about a boy" song. He knows who he is.
You played amidst riots this January at a hidden Intelligenica collective in Mexico. What was that experience like? 
That was my first time in Mexico and it was magical. Kids there just want to embrace what gives them hope and acceptance- it felt like a very pure scene. I don't think the kids even knew how cool they were. As for the riots, thankfully the borders closed right after we left or else we would have been stuck there in a while. Fast forward to present day and now my friends in Mexico are worried about us over here in the states…
You'll be performing in Glasgow on April 28th and in London at the 02 Academy Islington on April 30th as part of Brutalism UK with acts such as Cubanate. What can gig-goers expect from your live set?
I'm particularly proud of the live set. I travel and play with my buddy Matthew Setzer who has turned our live show into a collaborative multimedia experience. Since he's such a seasoned performer I've learned a lot from him and I think it adds to it being a memorable show. It's just the two of us up there so we make sure that we are never standing still and that we keep the audience engaged as much as possible. It's also really difficult to sing while jumping around but I'm practicing.
You've mentioned on your social media that you'll be "scoring the music for a performance for a not so secret society". What else can you share with us about it?
The Satanic Temple of Los Angeles, which is an amazing non profit social activist group, is hosting a Women's Mass which will raise funds for their work to protect women's reproductive rights and also bring money in for the women's shelter in skid row. I think they're one of the most important agencies currently because they really invest so many resources into social programs- people just need to get past the name. So at the event there will be a Liberation Ritual where members will perform to a track I composed.
Aside from this new music score in May, what else is on the horizons for KANGA? Are you working on writing new music for a second LP or is it too early for that?
I'm always writing… I just keep everything hidden in a vault until I can make sense out of some of it. So technically I am working on another LP though there are no release details or date yet. I'm still allowing this previous release to marinate but I am getting anxious to put out new material. I'm hoping that 2017 will include some cool collaborations and shows to look forward to.
But I generally can't plan anything past dinner.
Sarah Medeiros