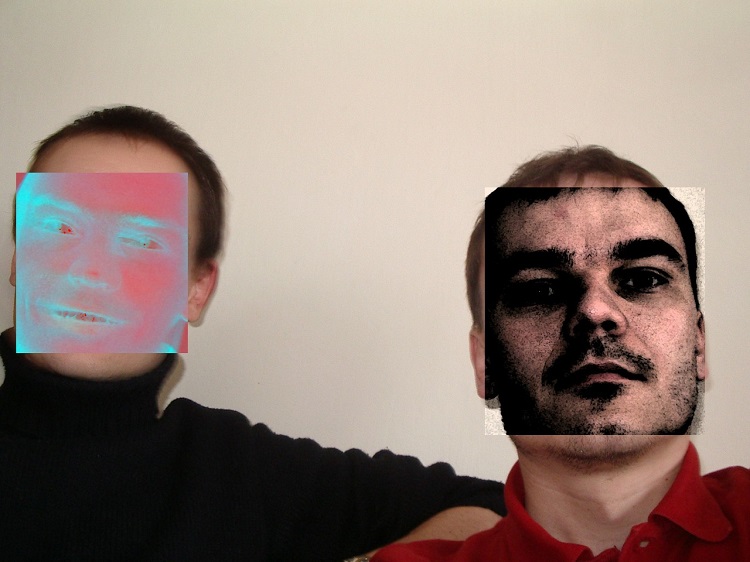 What inspired you to first start making music? And how did you come to be in your current incarnation? Or if you prefer, a brief bio about you.
We started making music in the early 1990s. We could say that the world had just undergone a metamorphosis, and that our music was a reaction, a little bit feverish, to this transformation. But, to tell the truth, our music was inspired only by music. We lived the music, we listened unceasingly American noise bands, and we had to try to make it our way. And it was our first group, Thing. Afterwards, when we started to find ourselves a little, we looked perhaps a little deeper within ourselves. And there, it became more personal but still only musical. The group has evolved a lot, we were five at first, and after years we are only two brothers, Columbus Duo.
Provide us with some info about your latest release…
On our last album, released in 2017 and published on CD and cassette, unlike the previous ones, that were only available on vinyl, we tried to join our experience of noise music with that of kraut rock, looking for the sound that matches to a more open structure, and especially to the presence of the drums which we have tried in recent years.
Which ones would you consider your main influences both music-wise & non-music-wise?
It's not easy to say, since we've been playing for over twenty years. But hey, what was decisive in the beginning is probably Shellac and The Dazzling Killmen. Let's add something newer: maybe Beak? Extra-musical influences do not exist.
In what way does your sound differ from the rest genre-related artists/bands and why should we listen to your music? In other words, how would you describe your sound?
It may seem paradoxical but the character of a band, its sound, is the result of its attitude to the music itself. As we are not professional musicians, and therefore we do not earn our living by making music, we play what we want, quite simply, without thinking too much about the reaction of the audience. No compromise, therefore. And that's in our music, I think one can feel it. If a piece seems too sweet, too beautiful, we destroy it.
Please name your 3 desert islands albums, movies & books…
The albums: Survival "Survival", Shellac "At Action Park", The Dazzling Killmen "Face of Collapse".
The films: "Melancholy" by von Trier.
Books: Sebald "The Rings of Saturn", Bernhard "Autobiographies", Leiris "Manhood".
Do you prefer studio or performing live and why? What should the audience expect from you of your live appearance at 2018's SpaceFest?
To tell the truth, we do not like neither the recordings nor the concerts. Both are too stressful 😉 We prefer repetitions in our basement. But we'll do our best at SpaceFest.
Is there any funny-unique story you would like to share with us, always in relation to your music 'career'?
Once, when we went to the studio to record our music, we forgot to close the trunk of our car, and half of the instruments fell without being noticed. Fortunately, after a few hundred meters, another driver warned us. We went back to our place where we found tramps already picking up our equipment. We almost lost it but everything finished well.
Which track of your own would you point out as the most unique and why?
It might be "SCH" from our last album, mix of noise improvisation, regular rhythm of the drums and a French radio show: we managed to deconstruct what is usually the essence rock music.
Would you like to share with our readers your future plans?
Now, we work on a new material where we kept the drums, but come back to the guitar in the place of the oscillator. We'll see what will happen.
Free question!!! (Ask yourself a question) you wish to answer and haven't been given the opportunity…
What are your additional activities related to music?
Apart from our own label, Deadsailor Muzic, together with Marcin Dymiter and Tomasz Gut we form the minus_jeden collective, in which we try to organize experimental music concerts and other meetings related to underground culture. And that's what occupies us most now.

Curated by: Christos Doukakis
Recommended listening:
Connect with Columbus Duo:
https://columbusduo.bandcamp.com