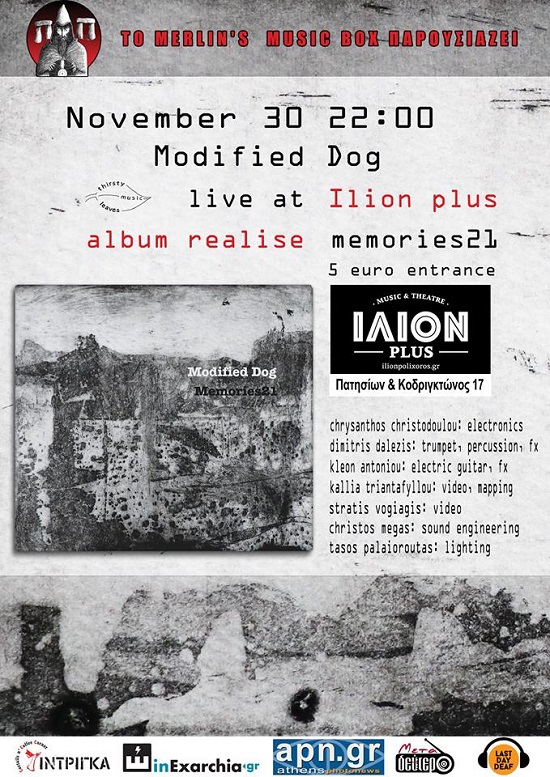 Last Day Deaf is excited to announce that is the Media Partner for the 30th November live appearance of the audiovisual collective Modified Dog latest album presentation 'Memories21', that will take place at ILION Plus, Athens, Greece.
Entrance: 5 euros
The event is organised by the restless Merlin's Music Box.
Modified Dog-Bio
Modified dog is an audiovisual music collective which alters, transforms, and changes its formulation, depending on the needs of each live concert, performance/installation, project.
Modified Dog's sound combines diverse elements: digital/electronic equipment (laptops, synthesizers, pedal effects), physical instruments (trumpet, percussion, vocals, guitar, saxophone) and recording (sampling) from various audio sources (speeches, city sounds, environmental sounds, scapes). Our compositions include forms and elements from minimalism, electronic music, jazz, experimental music and post rock. The simultaneous mix of various sources of lighting effects and 3D video-mapping projections creates a "cinematic" experience to each performance/installation.
In 2009, Chrysanthos Christodoulou, Dimitris Dalezis and Dimitris Tatsis formed the music group "Basement". They presented a series of live performances with different musical compositions by Chrysanthos Christodoulou written for dance theater. With the collaboration of Stathis Mitsios the nature of their performances changes into a three-dimensional "virtual" environment where video, animation and lighting are directly involved in the orchestrating of the compositions. Improvisation plays a crucial role in the research, the formation and the composition of new material. In 2012, Dimitris Pantelias (saxophones) becomes member of the group. In 2013, "Basement" changes its name to "Modified Dog" and Dimitris Tasoudis (drums, percussion) also joins the group.
During the summer of 2014, "Modified Dog" begun their first studio recordings and overall design of their new performance/installation entitled: "8 pm > 9 pm – from Light to Darkness / from Orange to Black ". Nikos Tsavdaroglou (contrabass) and Konstantinos Velenis (percussion) also take part in the recording sessions.