Q & A with Avencio DM from Gradual Hate Records
Please give us a brief bio of the label. How did it start, til today….
The story is as follows: Gradual Hate was a project of music electro dark. Gradual Hate was born in 2005, and in 2006 we published our first album 'Asphyxiated World' on a North American label. An album full of electronic sounds, hard, complex, embodied the metaphor of man suffocated in his own hatred, in his own selfishness, in politics that lead to fatality, war as the simile of the darkest face of man, manipulation of man as a slave to his own environment …
Shortly after I decided to self-edit, that's the starting point of the label, as for the name is something visceral, Gradual Hate, a hatred that is increasing, although the name is the first project to participate, I decided to leave it as the name of the record label and also everything related to the image of the asphyxiated world: gas masks, industrial environments, etc…
The desktop publishing is the starting point, that exchange was the point of injection of the distribution of music published by the label.
GH Records, explores sounds from sound art to neoclassical music, from neofolk to industrial sounds, always giving voice to what I understand as avant-garde proposals.
Which labels inspired you most to make your own?   
Old Europa Cafe, Cold Spring…
Which is the motto for GH Records?
Nihilistic Manifestations of the Modern World.
Which are the advantages and disadvantages of running a music label today?
There is no advantage in directing an independent music label, the musical world has undergone important transformations that have changed the music trade panorama forever, today independent labels are forced to offer ever more expensive editions of manufacturing since the consumer equates a large record company with the small label, condemning the small record label to extinction.
Which are your future plans for the label?
In September publication of Abattoir & Satori new album 'Megaloschemos'. In October publication of Wind Atlas – 'Lingua Ignota' (re-edition in CD format). The same month, publication of Moral Order (on cassette) new album. Busy!
Three distinctive GH Records releases
In Slaughter Natives – 'Psicofonias (Las Voces Desconocidas)'
This one relies on some of the most important projects of the dark ambient industrial music: In Slaughter Natives, who is a pioneer in the symphonic industrial field and part of the legendary label Cold Meat Industry. This music project is formed by Jouni Havukainen who carries out an outstanding and deep work full of aspects where in some parts we can listen the voices of dead people.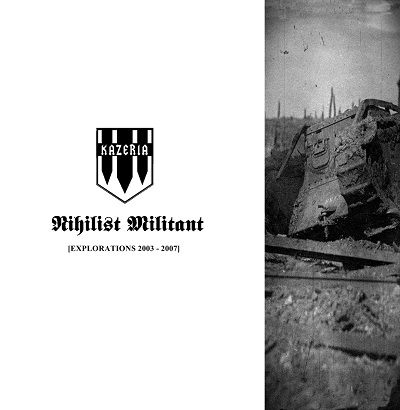 Kazeria – 'Nihilist Militant'
Back at that time [S] employed worn and minimal gear, using primitive recording techniques (hand-manipulation, mostly) in order to create "old school" and minimalistic industrial, black/dark ambient and noise but including many elements that can be recognized on Kazeria's later works.
Kraschau – 'Une Foi d'Acier'
Musically, it continues to expand and incorporate more and more styles, like it's predecessor, 'Falanx': Αs 'usual', you can find Kraschau's self-composed and played neoclassical synth parts, but most of the songs are going back to the roots of industrial music and they are more based on various, monotonous samples and loops. Furthermore the album makes experiments in incorporating power industrial and contemporary classical music and even 'lighter' electronic sounds.
Links:
https://www.facebook.com/ghaterecords/
https://www.instagram.com/gh_records
Curated by: Christos Doukakis