What inspired you to first start making music? And how did you come to be in your current incarnation? Or if you prefer, a brief bio about you.
Caffeine and cannabis inspired me to start. Copious amounts of caffeine and cannabis brought me into my current incarnation. Kin Capa is the band, so to speak. Right now it's just me, Lee Capa, piecing things together in the studio but a live band is in the works. I've grown upwards, if not up, with an always-present sense of fantasy and a delight in what others see as dirty. My main goal, right now, is to return musical voices to where they used to be in rock – less pop polish and more theater of the real. I love a little mystery, a little magic, but I also value honesty.
Provide us with some info about your latest release…
Act One (EP) of my debut, The American Opera is out now. Act Two will be released Summer '19. Together they make a concept album, a sort of rock opera about a world where diversity and self-expression has been lost. There are characters in every song and a narrative arc that has to be felt in the soul rather than heard in the lyrics. It all has a sense of humor. It's not a drama, but it is dramatic. And above all, it's surreal, emphasis on the "real." The best thing it can achieve is to connect with people. I want fans to be viscerally involved.
Which ones would you consider your main influences both music-wise & non-music-wise?
Fortunately, and unfortunately, all things musical or non-musical in my immediate environment influence me in some way or another.
In what way does your sound differ from the rest genre-related artists/bands and why should we listen to your music? In other words, how would you describe your sound?
I'm not sure how much my sound compares to what the rest of my peers are doing since we're constantly evolving. I don't really judge my songs in terms of genre. You should only listen to Kin Capa if you wish to hear what a true brand of pure, rollicking, unadultered, straight-up high energy, witches brew of crackling, popping rock music sounds like…played loudly.
Please name your 3 desert islands albums, movies & books…
Albums: The Complete Recordings of Robert Johnson, Eric Dolphy's Out To Lunch, and Donuts by J Dilla
Movies: East of Eden, Don't Look Back, and Goodfellas
Books: Poet in NY by Federico Garcia Lorca, Perfume by Patrick Suskind, Typee by Herman Melville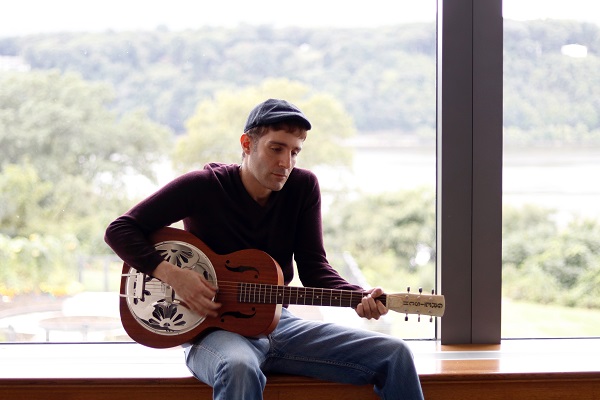 Do you prefer studio or performing live and why?
God, I hate the studio. It's not a great environment to feel creative in. To me, music is a live art like the theater. I need to see sweat, tears, and blood to feel like it's a performance. To me there's nothing better than the sound of live music.
Is there any funny-unique story you would like to share with us, always in relation to your music 'career'?
Something makes me laugh every day. I wouldn't put one time above any other.
Which track of your own would you point out as the most unique and why?
I'd say it's "Re-Cover-Re," the newest single. I know that's an obvious answer, but the excitement surrounding this song was so great because I literally wrote it two days before the sessions for Act Two began. I think it best represents my sound as it is at this very moment in time. Tomorrow never knows.
Would you like to share with our readers your future plans?
I would if I knew. But I'll keep in touch. Just stay tuned for The American Opera, Act Two.
Free question!!! (Ask yourself a question) you wish to answer and haven't been given the opportunity…
What's your favorite curse word?
Fangul!
Curated by: Christos Doukakis
Recommended listening:
Connect with Kin Capa: