Cryintro will be the opening act of the excellent idm/electronic/ambient event at MODU, on November 18th. Judging by 'The First Dance', we should expect great things from Greek music producer Stavros Kostidakis (aka tape86). But before all these, read this interesting chat he had with Last Day Deaf…
Please introduce Cryintro project to our readers…
Cryintro is an ambient-glitch-idm project, with some scratches and breaks on it. The word "Cryintro" is a combo of the words 'crying' and 'intro'. I wanted to express with one word the feeling of a gig's beginning when someone hears the first notes from the opening track.
Judging by your (only?) track that is available on the web, 'The First  Dance', the cinematic element is also very strong. Please discuss.
Not only. Mostly, I sample sounds and then I put the beat, the bass and the pads. I like the cinematic atmosphere as much I like to… "destroy" it with breaks, broken sounds and cuts. There is only one track uploaded on the web, because I just finished a full-length album, called 'Museum Of Mistakes', which it's going to be released very soon.
Any hints about this album? Some exclusive info for Last Day Deaf?
It's a collection of old feelings and raw sounds, tracks produced in a rough way, broken music patterns…  I think the sound is different in every track, because there are a lot of influences in it. I hope it will be released very soon in hard copy or digital.
By a label or a self-release?
Self-release. That's why I don't know the format yet. The album is just finished, so I am working on the artwork now and that will determine the format.
You are the opening act for the 18th November event by WRONGPAD & Kapelomusic. Are you going to play in the "classic" laptop/projector style?
I try to perform with different setup in every live. So, this time I will play with a laptop, a midi pad controller and a turntable. That is… backing tracks, effects and physical sounds triggered on the pad controller and scratches with sound effects, not to sound so classic.
Looking forward to it! Which 3 movies, 3 books, and above all 3 albums would you take in a desert island?
What to start with… Darren Aronofsky's "The Fountain", "The Eternal Sunshine Of A Spotless Mind" and "Relatos Salvages".
Books… I mostly read comics and studies about visual arts… So, Arthur Miller's "Einstein-Picasso", John Burger's "Ways Of Seeing" and Scott Mc Cloud's "The Sculptor" along all his comics-studies on comics.
Music albums. It's hard to say only three… On music most influenced by edIT's 'Crying Over Pros For No Reason', Active Member's 'Blah-Blasphemy' and Architect's 'Consume Adapt Create'.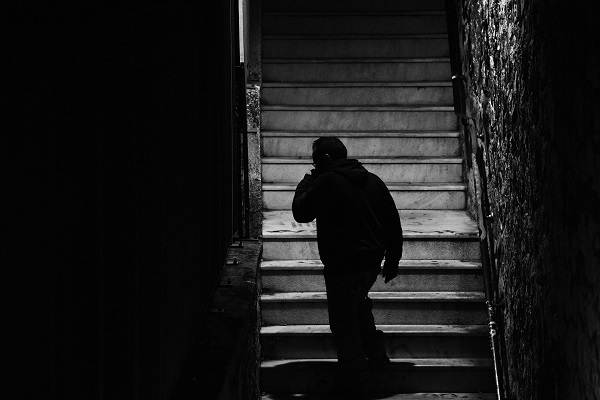 And what about your excellent net-label 33 Recordings? Is it still active?
It's active, but has no rhythm! There are periods of time that it looks like it's inactive but I try to keep it strong and fresh, often, with new music. In March we celebrate 10 years of the label, Ι hope we will celebrate it as it deserves, with a big live!
But don't you think that net-labelism has died out?
Of course the way of communication has changed. Internet and social media makes it easy to release your own music via your own site, page or profile, but I think there is still a need for labels, teams etc. Always is better to work as a team, under a label, a community of people to share music thoughts.
Back to Cryintro again! How would you like to see the project evolve in a few years' time? Any targets?
I don't know exactly… I always liked live painting, so I would like to work on a performance with live music and painting alongside, by me. I hope to make it someday.
Feel free to close this one the way you wish. Anything else you'd like to add and haven't been given the chance to?
Only the phrase "Support what you like and it will never die".
Thanks a lot.
Photo credits: Constantinos K Photography
Christos Doukakis