Now Alternative playlist series will feature 7 present-day tracks of alternative rock music you should aim your attention at. We will also include grunge, brit rock and also heavy rock tunes and any guitar-driven gem that could fit in the "alternative" genre. Principally, this is current music any fan should not miss, and should be played loud!
ARTIST: Woodship
TRACK: Ruins
German band Woodship's 'Ruins' is an explosive alternative rock banger, with a "riff-ogonic" chorus, that fans of great Biffy Clyro should invest some time on!
ARTIST: The Cabbys

TRACK: In You We Crash
If you dig Muse before turning prog, then The Cabbys' 'In You We Crash' taken from their recently released debut EP 'Songs To Get Weird To', will simply make your day!
ARTIST: Speed Control

TRACK: Mr. Romance
Hope you are ready for the upbeat, alternative rock banger by the Canadian quartet Speed Control, who unlike their name, unleash super dynamic, catchy & "speedy" alt rock!
ARTIST: Jonah Leatherman

TRACK: Castle Stories
We love everything about Jonah Leatherman's 'Castle Stories', since the first names that came in mind while listening to this gem were Dinosaur Jr. in their most esoteric & Neil Young. This chap sings with passion, emotion, with an adorable falsetto, beyond any trends and hypes.. Opus!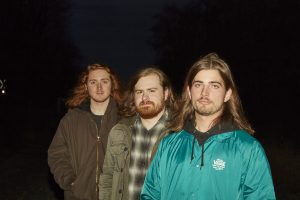 ARTIST: Ivy Gardens
TRACK: Close Calls
Another up-and-coming alternative rock band that has the guts to unleash, fiery, and super noisy alternative rock, but also remaining super melodic… Ace stuff! 
ARTIST: Nocturnal Animals
TRACK: Where's My Mind Been?
A stunning, fuzzy, alternative rock banger by the merging Aussie trio Nocturnal Animals, will transfer the elder ones, to the 90s golden, "pogo-stick" days! According to the band, this anthem is "about wanting to go back and take another shot at a failed relationship". 
ARTIST: Coochilla
TRACK: Gotta Keep Loving
'Gotta Keep Loving' is the first single of the promising alternative rock band from Finland, Coochilla's upcoming 'Master Groover' EP, a spicy and super groovy treat with anthemic value, a grunge heart and above all diy ethos! On our radar!
Compiled by: Christos Doukakis