Written by: Karl Franks
I have chosen to cheat slightly by including some films initially released in 2018 as they were not released in the UK and some other countries until 2019.
Charlie's Angels, (Dir: Elizabeth Banks)
This is undeniably one of the most entertaining popcorn films of recent years; far and away superior to the two previous film versions. A hugely enjoyable updating of the original series that is primarily a lot of fun, yet what elevates it above a generic studio film is its subtle subversiveness. Without a doubt it is Elizabeth Banks' "Charlie's Angels", and it is apparent from the very first scene she has a huge passion for the iconic TV series that ran from 1976 to 1981; knocking it out of the ball park as the writer, producer, and director. The hugely underrated Kristen Stewart is one of my favourite actresses and gets to show her comedic side, acquitting herself wonderfully in some of the funniest scenes; even coming close to stealing the entire film. Naomi Scott ("Aladdin", 2019 remake) and Ella Balinska (in her feature film debut) round out the trio, playing off of one another perfectly. The entire cast seem as if they had great fun and it translates to the film itself; with Patrick Stewart and Elizabeth Banks the standouts of the supporting cast. "Charlie's Angels" obviously does not have great depth but is terrific blockbuster entertainment. A thrilling female ensemble action comedy that is an absolute blast from beginning to end.
The Irishman, (Dir: Martin Scorsese)
Martin Scorsese delivered a film of depth and subtlety that can be viewed as the third part of a thematic trilogy starting with "Goodfellas" and then Casino. However, this is a far more reflective film, having a lot in common with Sergio Leone's "Once Upon a Time in America". The once in a lifetime cast is superb, with Robert DeNiro and Al Pacino at their very best, and Stephen Graham the standout of the supporting actors. However, all are outshone by possibly a career best performance by Joe Pesci. It may not be Scorsese's best film, then again how many film-makers have made as many masterpieces as he has. Huge credit goes to Netflix for believing in his ground-breaking vision and giving him full creative freedom.
A Vigilante, (Dir: Sarah Daggar-Nickson)
This may seem to be just another generic exploitation revenge film, whereas in fact it is an intelligent thought provoking exploration of domestic abuse; an uncompromising depiction of how the abused is affected and tries to take back control. Olivia Wilde in the best performance of her career is exceptional in the lead role. While it is not going to be a film for everyone those looking for something more than an exploitation film I cannot recommended it enough. Currently available on Netflix.
A Good Woman Is Hard to Find, (Dir: Abner Pastoll)
A magnificent performance by Sarah Bolger ("Into the Badlands", "Emelie") anchors this Irish set social realist drama as a recently widowed young mother who seeks the truth about her husband's murder. She brilliantly brings depth to her character, at times with little more than a gesture or look, conveying more than pages of dialogue ever could. Her performance alone elevates the entire film above the seemingly exploitation aspects, almost making it a character study. A Disturbing, shocking and ultimately humanist film with a vein of Ken Loach inspired social commentary.
I'm Not Here, (Dir: Michelle Schumacher)
A near on masterpiece of immense depth and soul that intelligently explores loss, grief, guilt, and what if; impressively directed, edited, and co-written by Michelle Schumacher. Her husband J.K. Simmons ("Whiplash") gives a extraordinary performance as a man struggling with the tragic memories of his past and trying to make sense of his present; all the more impressive as it is dialogue free, yet still conveying every facet and emotion of the character. He is backed up by a faultless cast, particularly Sebastian Stan ("Captain America").
The Perfection, (Dir: Richard Shepard)
Among one of the best Netfilx films of 2019. I honestly had absolutely no idea what to expect, envisioning it to be a horror film, and as I began to watch it I thought I was wrong, but then…….. Well to say more would spoil a film that is best appreciated with little or, better still, no prior knowledge as refreshingly it was genuinely unpredictable. The whole cast is excellent, Alison Williams ("Get Out") and Logan Browning ("Dear White People") are exceptional in their respective lead roles; Steven Weber ("The Shining" TV mini-series) being a standout of the supporting cast. Appearances can be deceptive, and in this case it is true; a far more disturbing and shocking film than I ever expected.
I Lost My Body (original title: J'ai perdu mon corps), (Dir: Jérémy Clapin)
This Cannes Critics' Week Grand Prize winning animated film (based on a graphic novel) is a beautifully poetic dreamlike meditation on our connections to the world and each other. The story is twofold, following Naoufel, a young man in love with Gabrielle, and a severed hand that escapes from a dissection lab determined to find its body again. Director and co-writer Jérémy Clapin describes it as "an urban modern fairy tale about destiny and resilience; it tells us that to change things, we must surprise ourselves, dare to do something unusual, stray away from the straight and narrow". A seven year labour of love for the film-makers that can be felt in every single, beautifully hand-drawn frame.
In Fabric, (Dir: Peter Strickland)
A virtuoso slow build horror that is genuinely creepy, with inspiration coming from the Italian horror films of the 60s and 70s, especially Dario Argento; particularly within the aesthetic and ambience. Seemingly set in the 1970s against the backdrop of a busy winter sales period in an English department store the film follows the life of a cursed dress as it passes from person to person, with devastating consequences. However, if you have seen any of Peter Strickland's previous films, such as "Berberian Sound Studio" and "The Duke of Burgundy", you will know this comes nowhere near close to describing his dreamlike film; he has a style all of his own. Marianne Jean-Baptiste playing one of the lead roles was superb, as has come to be expected, although more well known nowadays for her US roles it was a pleasure to see her in a low budget British independent film. Leo Bill (BBC/HBO series "Taboo") also impressed, coming to my attention in Simon Rumley's brilliant psychological horror "The Living and The Dead". Intelligent art house horror at its very best.
Stan & Ollie, (Dir: Jon S. Baird)
One of the most overlooked films of recent years: Film Review
Fighting with My Family, (Dir: Stephen Merchant)
A hugely enjoyable biopic that is definitely not only for wrestling fans: Film Review
The House that Jack Built, (Dir: Lars Von Trier)
Lars Von Trier and Matt Dillon, in possibly a career best performance, are a magnificent combination. A jet black comedic horror infused character study of a serial killer as only Lars Von Trier could envisage it. Uncompromising, shocking, and disturbing, as is to be expected from the most controversial of film-makers. Trailer Review
Climax, (Dir: Gaspar Noé)
Enfant terrible Gaspar Noé returned in gloriously mind-blowing, intelligent, and disturbing style: Film Review
Midsommar, (Dir: Ari Aster)
Ari Aster delivered a far more assured and satisfying film than "Hereditary". An intelligent and uncompromising mainstream art house horror film: Film Review
Joker, (Dir: Todd Phillips)
A comic book film like no other: Film Review
Alita Battle Angel, (Dir: Robert Rodriguez)
James Cameron and Robert Rodriguez combined perfectly with this hugely entertaining manga adaptation: Film Review
Rainy in Glenageary, (Dir: Graham Jones)
One of the most important films I have ever reviewed. An independently made true crime documentary film that transcends the format to become a heartfelt and heart-breaking work of art: Film Review
Full Feature:
Possum, (Dir: Matthew Holness)
A superb character driven psychological horror that focuses on slow build dread rather than cheap jump scares. Sean Harris ("Mission Impossible", "Prometheus") is phenomenal in the lead role of a disgraced puppeteer who, upon returning to his childhood home, is forced to confront the secrets that have tortured his entire life. An uncompromising and disturbing film that intelligently depicts the repercussions and effects on the individual of past traumas.
Terminator: Dark Fate, (Dir: Tim Miller)
This is one of ,if not, the best blockbuster of 2019; and the best Terminator film since "Terminator 2: Judgement Day". In all honesty it was never going match James Cameron's masterpieces. Nevertheless it is still an outstanding and satisfying film. As with the aforementioned it never once loses focus of the characters and human aspects, even amongst the spectacular special effects and action sequences; with a lot of heart and soul that is missing in many blockbusters nowadays. Linda Hamilton is superb as always, bringing a depth to Sarah Connor that clearly was not in the writing; as she did with the original films. Arnold Schwarzenegger shows how far he has developed as an accomplished dramatic actor, with Mackenzie Davis ("Black Mirror", "Blade Runner 2049") and Natalia Reyes (her first Hollywood film) matching them all the way. "The Terminator" & "Terminator 2: Judgement Day" are primarily Sarah Connor's story and "Terminator: Dark Fate" honours that, respecting how much she inspires and means to so many. A near perfect sequel and, if it turns out to be, a perfect ending to The Sarah Connor Trilogy.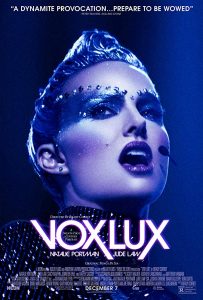 Vox Lux, (Dir: Brady Corbet)
Natalie Portman, one of the best actresses of her generation, in another tour de force performance to rank alongside "Black Swan" and "Jackie", one of my best films of 2017. This is another film in which appearances are deceptive, being so much more than a generic story about a pop star. A no holds barred meditation on celebrity that depicts how the individual and their loved ones at the centre of the hurricane deal with it, or not.
The Favourite, (Dir: Yorgos Lanthimos)
A superb female ensemble period costume drama from Yorgos Lanthimos ("Dogtooth", "The Lobster", "The Killing of a Sacred Deer"). In early 18th century England a frail Queen Anne occupies the throne and her close friend, Lady Sarah, governs the country in her stead. When a new servant, Abigail, arrives her charm endears her to Sarah. Olivia Colman, Rachel Weisz, and Emma Stone, playing off of each brilliantly, give career best performances in a genuinely unique film that transcends its genre and synopsis.
Doctor Sleep, (Dir: Mike Flanagan)
A character driven horror film that respects and does justice to both Stephen King's and Stanley Kubrick's "The Shining", yet does not try to emulate either. Yes it recreates scenes, not for nostalgia but to enhance its narrative and flesh out the characters. Picking up 40 years later a now-adult Danny Torrance must protect a young girl with similar powers. Mike Flanagan was surprisingly the perfect choice to helm this follow up. Honestly I never felt that Ewan McGregor was the right choice to play Danny Torrance, but he gave a far more accomplished performance than could ever have been expected. He is supported by a first-rate cast, each giving top notch performances; Rebbeca Fergusson coming close to stealing the film. Expectedly it does not compare to the pure horror mastery of Kubrick's "The Shining"; in all honesty no horror film ever could. Instead it is clear the aim was to be a contemplative study of addiction (as the core of King's novel "The Shining" was) and trying to come to terms with the past; and in that respect it works brilliantly.
Suspiria, (Dir: Luca Guadagnino)
Understandably a very divisive remake of Dario Argento's masterpiece. Luca Guadagnino took the core of the original and brought something completely different to it, focusing far more on the characters and using the dance sequences to flesh them out and enhance the narrative. An outstanding and committed Dakota Johnson is backed up by an faultless, almost completely female cast, with some surprises. Brutal, shocking, and for me it is one of the best remakes, and most original horror films, in many years. Trailer Review
Border (original title: Gräns), (Dir: Ali Abbasi)
A heartfelt, poetic, character driven realist dark fairy tale is the best way to describe this unique film, and even that does not come close. The story follows a Swedish customs officer (Eva Melander in a superb performance) who can smell human emotions. While aiding a police investigation she develops an attraction to a strange traveller that leads her to question her whole existence. Brilliantly written and directed by Ali Abbasi, and unlike any film you have ever seen.
Dumbo, (Dir: Tim Burton)
Honestly I was not expecting much from this but still hoping Tim Burton brought his unique style to one of my favourite animated films. Happily he delivered one of his finest films in years; the best, and most worthwhile of the live action Disney remakes. He fleshed out the original story by bringing human characters to the fore of the narrative, a tricky thing to pull off when the animals were the main focus of the original; in so doing bringing far more depth than could ever have been expected. One of the most pleasant surprises of 2019; and what's not love about such an adorable baby elephant that you could believe can fly!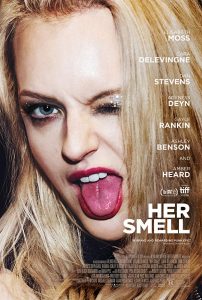 Her Smell, (Dir: Alex Ross Perry)
A brilliant character study of a self-destructive 1990s rock star, apparently very loosely based on Courtney Love. Elizabeth Moss ("The Handmaid's Tale") gives a totally uninhibited and astounding, maybe even career best, performance. Although her character is the primary focus, and on screen for almost the entire 136 minutes running time, it felt far more like an ensemble piece; with everyone delivering superlative performances. A purposefully disorientating film depicting realistically the effects of substance abuse and mental illness, at times bringing to mind Darren Aronofsky's "Requiem for a Dream" and the films of John Cassavetes.
Zombieland: Double Tap, (Dir: Ruben Fleischer)
One of the best sequels of recent years. An absolute blast of a movie that does justice to the original and not just a tired rehash. What's not to love about a film that starts with full on zombie slaying fest to the soundtrack of Metallica's 'Master Of Puppets'. In the words of scene stealing Woody Harrelson's Tallahassee Nut Up or Shut Up and check out the film that raises from the dead the zombie genre.
Re-visit: