With Halloween upon us I wanted to not highlight some of the usual spooky season set movies, but instead shine a light on lesser known, under-appreciated, and left-field gems.
Karl Franks
The Endless (2017, Dir: Justin Benson, Aaron Moorhead)
This intelligent, thought-provoking Lovecraftian horror sees two brothers receive a cryptic video message inspiring them to revisit the cult they escaped a decade earlier. Hoping to find the closure that they couldn't find as young men. As different an approach of its inspiration as has come to be expected from Aaron Moorhead & Justin Benson ("Spring", "Synchronic"), who also excel in front of the camera as the brothers. Their debut feature "Resolution", a companion piece, is highly recommended too as it adds to both movies, giving each a differing perspective. Both are deep, layered, profound, and master-classes in independent movie making.
Exhibit A (2007, Dir: Dom Rotheroe)
A normal family is disintegrating under financial pressure, eventually driven to the unimaginable as terrifying events unfold via daughter Judith's video camera, which subsequently becomes exhibit A. For the first two thirds playing out as a domestic drama it gradually becomes a disturbing psychological horror that builds to an unexpected and shocking conclusion; depicting horrors of the very real kind that lingers in the mind long after the final frames. A stunning Bradley Cole as the father anchors this standout of the found footage genre and independent film-making. One of the best British horror movies of the last decade.
88 (2015, Dir: April Mullen)
This may well be among one of the worst marketed movies of all-time, giving the impression of a titillating exploitation film. What it is in fact an intelligent, horror tinged, psychological character piece. Expertly directed by April Mullen, and co-written with Tim Doiron, who also stars. Showcasing career bests from both Katherine IsaBelle ("Ginger Snaps") and Christopher Lloyd. A young woman in a fugue state (a type of amnesia) wakes up with no idea where she is or how she got there as she gets taken on a violent journey of blood-soaked revenge…
Galaxy of Terror (1981, Dir: Bruce D. Clark)
Quite blatantly inspired by the success of "Alien" a couple of years previously, this is B-movie exploitation as only Roger Corman could produce. Made on a fraction of the budget, but with impressive practical and visual effects, and a production design by second unit director James Cameron ("Aliens", "The Terminator", "Avatar") that gives a throwback 50s and 60s sci-fi aesthetic; feeling at times like a blood soaked episode of "Star Trek". Surprising depth transcends the "Alien" cash-in tag, encompassing varied inspirations, most noticeably "Forbidden Planet". Yet the strength lies in the stellar cast who elevate the material. A young Robert Englund a few years before "A Nightmare on Elm Street" would make him a genre star, Sid Haig, Ray Walston, and Erin Moran ("Happy Days"). However, stealing every scene she is in, is David Lynch regular Grace Zabriske, with an as usual complex performance. At 80 minutes long not one second is wasted, with enough blood, gore, and splatter to satisfy horror hounds, yet with unexpected substance.
The House That Jack Built (2018, Dir: Lars Von Trier)
Jack is a highly intelligent a serial killer, with the killings that formed his depraved mind depicted over the course of a twelve years. Written and directed by Lars Von Trier, one of the most controversial film-makers of modern times, delivering one of his most polarising movies. Matt Dillon is sensational as Jack, Von Trier bringing the absolute best out of every aspect of him. Disturbingly realistic, brutal, accentuated by very dark humour, making for a deliberately gut-wrenching and uncomfortable experience.
Shadow in the Cloud (2020, Dir: Roseanne Liang)
This Chloe Grace Moretz starrer is no mega-budget Hollywood blockbuster but a contained, immersive B-movie.
In the throes of World War II, Captain Maude Garrett (Moretz), with a top-secret package, joins the all-male crew of a B-17 bomber. Caught off guard by the presence of a woman on a military flight, the crew tests Maude's every move. Just as her quick wit is winning them over strange things start to happen… Throughout the focus is on Garrett, from whose point of view we see events unfold. Moretz fills the screen for pretty much the entire film with her usual affecting, charismatic presence, making stretches in credibility totally believable. Brilliantly complimented by writer/director Roseanne Liang, together fashioning an engaging, at times thoughtful narrative; delivering a perfect balance of substance, social commentary, and most importantly hugely enjoyable popcorn horror entertainment.
Borley Rectory (2017, Dir: Ashley Thorpe)
Narrated by Julian Sands and featuring Reece Shearsmith ("League of Gentlemen", "Inside No9", "The Cottage"), this avant-garde style documentary film covers the history of "the most haunted place in Britain." Depicting known facts using a mixture of live action and CGI reminiscent of Robert Rodriquez's "Sin City". Surreal, intriguing, creepily effective storytelling that works beautifully.
Possum (2018, Dir: Matthew Holness)
Do not be mislead by the expected creature feature the poster suggests, this is an unconventional horror starring seasoned British character actor Sean Harris ("Prometheus") in the best performance of his career to date. A film that is almost impossible to review without giving away spoilers, another of those that is best watched with no prior knowledge. After returning to his childhood home, a disgraced children's puppeteer is forced to confront his past and the secrets that have tortured his entire life. It was an extraordinary experience to finally see Harris in a lead role rather than as support stealing every scene he is in. Here he gives a hugely powerful, nuanced, and disturbing performance. "Possum" is a character study of the highest level and a psychological horror masterpiece, with scenes and images that stay with you long after the unexpected ending.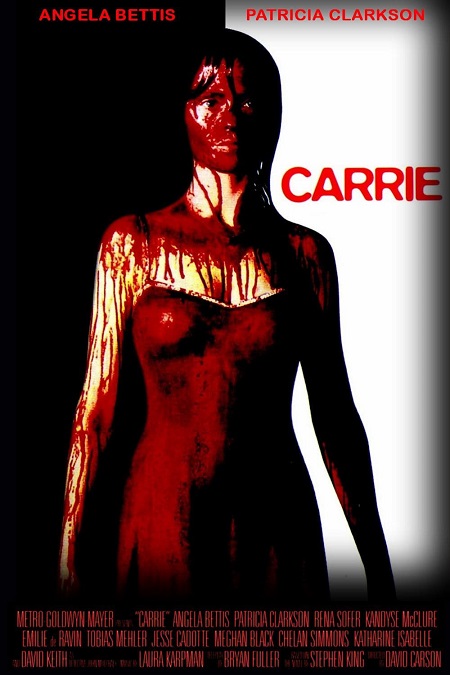 Carrie (2002, Dir: David Carson)
This lesser known version of Stephen King's novel stands up to Brian DePalma's 1976 original and Kimberley Pierce's unfairly maligned 2013 remake, due in no small part to Angela Bettis ("May", "The Woman") and her outstanding performance as Carrie. This is a more faithful take, expanding on some elements, utilising the novel's flashback structure, emphasising less on Carrie's relationship with her mother and more focussed on her school life than home life. Bryan Fuller did a wonderful job adapting within the confines of what could be shown on TV back in 2002. Bringing something different to the source, showing elements of the psychological depth and surrealism that would later come to fruition in "Hannibal" (2013-2015 TV series). "Carrie" 2002 is a superior remake.
Ghost Stories (2017, Dir: Jeremy Dyson, Andy Nyman)
Writer/directors Jeremy Dyson and Andy Nyman (who also plays the lead) understand what makes horror work on many different levels, and how to construct scares and mounting dread that add to character and story. "Ghost Stories" is an old school style horror with a modern twist on elements of M.R James and Amicus based on their stage play. In essence a portmanteau film, but due to the structure does not feel like that at all Totally unpredictable from beginning to end. Genuinely frightening, disconcerting, intelligent, with surprising depth. One of the best horror films of recent years.