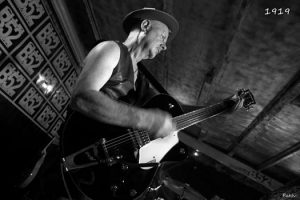 Beginning of the new year, same old story, death and still musicians' death, someone tried to console me saying it's a normal part of life, it's us who pay too much attention to it, nevertheless it's so sad and devastating.
Guitarist Mark Tighe, co-founder with vocalist Ian Tilleard and core member of Bradford's goth post punk band 1919, has lost his battle with the "evil beast", he fought till the end with his precious sense of humour and love for life.
Around 1977 two teenagers, overwhelmed by the thrilling and inspiring  atmosphere of the rising punk and post punk scene and after watching unforgettable performances of such pivotal bands as Sex Pistols, The Clash, Siouxsie And The Banshees, Throbbing Gristle, Buzzcocks, Joy Division (Mark said to have seen them live 4 times!), Wire and Cabaret Voltaire, they decided to form an experimental band, inspired by Throbbing Gristle, called Rue Morgue, with a brief appearance in the line-up of Mark Manning, later with Zodiac Mindwarp and Aki Nawaz from The Southern Death Cult.
For the first gig the group incredibly changed their name in 'Heaven 17'!, but only when Mick Reed, a drummer from Dewsbury with a tribal style, joined the band their musical direction started to take shape in 'a rhythmic, heavy and melodic/ dark dance beat, it was the 1980 and the legacy of 1919 kicked off.
Right in the amazing mix of the West Yorkshire post punk scene with bands like New Model Army, Bauhaus, The Sisters Of Mercy and Red Lorry Yellow Lorry, the first 1919's release was a DIY limited double A side 7" white label single with 'Repulsion' and 'Tear Down These Walls' with  just stamped on the cover "Take it or leave it", they spread it around various radio stations, shops and fanzines and unbelievably the great John Peel loved it enough to meet personally the band in a pub and offered them their first Peel Session.
The band's popularity and fan-base started growing and signed a deal with Red Rhino Records, meanwhile the sound was becoming increasingly darker and menacing. The debut was re-released and another double a-side 'Caged' soon followed in 1982 and their beautiful debut mini-album, full of 'nihilism, alienation and angst', would follow the year after.
After another Peel Session and a new contract with London's Abstract Records, they released the 'Cry Wolf' E.P. with a more bass-led dark-dance vibe well received by the fans and the press, but after difficult record sessions, lack of direction and musical edge, the band disbanded and the demos of those EPs were released without their permission.
After the brief experience (1984/85) under the moniker of Another Cinema with a new wave oriented sound, there was a long hiatus interrupted by the disastrous  2004 come-back, without Ian Tilleard and Steve Madden, with the 'Dark Temple' mini-album.
In the last years Mark's inspiration and enthusiasm were magically back thanks to the blooming partnership with the young bass player and vocalist Rio Goldhammer, the excellent new song 'Revenge', and the accompanying video, were the first excellent fruit from it.
The band headlined in great shape, as a quartet (former drummer Mick Reed rejoined too), the Leipzig's Gothic Pogo Festival on Friday, May 22 2014, their first show after so many years. Another excellent new 4-track Cdr was released and 1919 started touring extensively around Europe and an album 'Circle Of Absurd' is going to be released …but we know life's a bitch sometime.
A great musician, Mark Tighe was also a gifted clever man of great culture and sharp opinions with a moltitude of

hobbies and interests, his love for David Bowie ('Diamond Dogs' was his 1st vinyl) and Marc Bolan, his passion for guitars (coloured Gretsch in particular), old custom motorcycles and Mini Minor cars , visual arts, design, cinema (Martin Scorsese one of his fave) and above all his love for rock 'n' roll.
A very nice and talented man, human beings like him shouldn't die, just live forever. An inspiration for most of us to carry on with hope and irony in these troubled times.
From his FB wall :
'But I realise that I love this life
On the road
My band
High on life
Twitching to go
To play
The electricity overwhelms me
It is immeasurable'
1919……….. Forever
Fabrizio Lusso