14th October 2016 (1st day)
Sevengill
Alphastate
AlienTV
Sorrowful Winds
Ghost Season
Simplefast
15th October 2016 (2nd day)
In WAR
Kin Corruption
Mask Of Prospero
My Inferno
Fourgiven
Tetractys
RandomWalk
16th October 2016 (3rd day)
Fate Weaver
 Shatter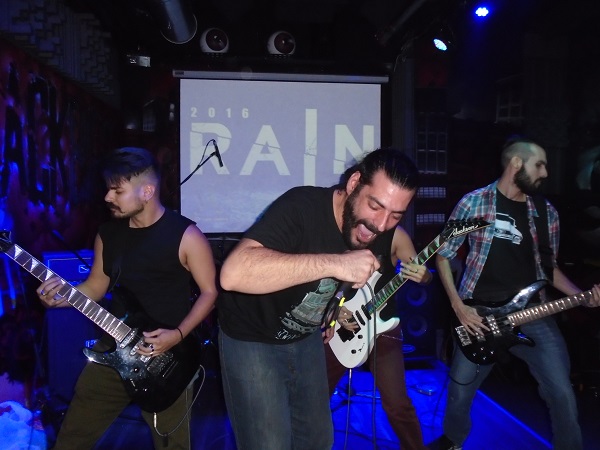 Nihilgod
Hearken To Their Agony
Treason As Relief 
Fatal Fragments 
Leave the Circus
***Sevengill & Alphastate photos by Phil Roussos
Q+A with Rainfest organizer Phil Roussos (Simplefast, My Inferno)
So Phil, first I have to congratulate you on the fine organization of the 3-day event, especially if we take into consideration that you are really young. Could you tell us which was the main idea or better conception of this event?
Thank you Christos, I always wanted to create a festival that would be under the best circumstances, that would promote the music that I love and represent. I named it "Rainfest" simply because it's happening in autumn. I think that in Greece metal music needs more support from both musicians and fans. So I came up with the idea of organizing "Rainfest". It was also an opportunity to collaborate and perform with friends and other people that share the same passion with me.
Are you satisfied with the event yourself? What could have been better, or why not worse?
To be honest I didn't expect it to go so smoothly in my first attempt of making something that big. I'm extremely satisfied with the timing going as planned. One thing that could have been better was the promotion from our sponsors and associates because some of them didn't actually help at all.
Many other things could have been worse but at the end of the day it all went great.
Share with us, if not too early, are there any plans for a near future Rainfest? Maybe, Rainfest 2017?
Since we all had an amazing time, we will start planning "Rainfest 2017" during summer.
Describe Rainfest with a phrase that suits it best….A message to its fans.
Great music, great people and lots of drinks! We had a blast this year and you will too next year! Also I want to say a HUGE thank you to my crew from "Karma-in Art Design".
Photo credit (Phil Roussos): Maro Chrys
Curated by Christos Doukakis