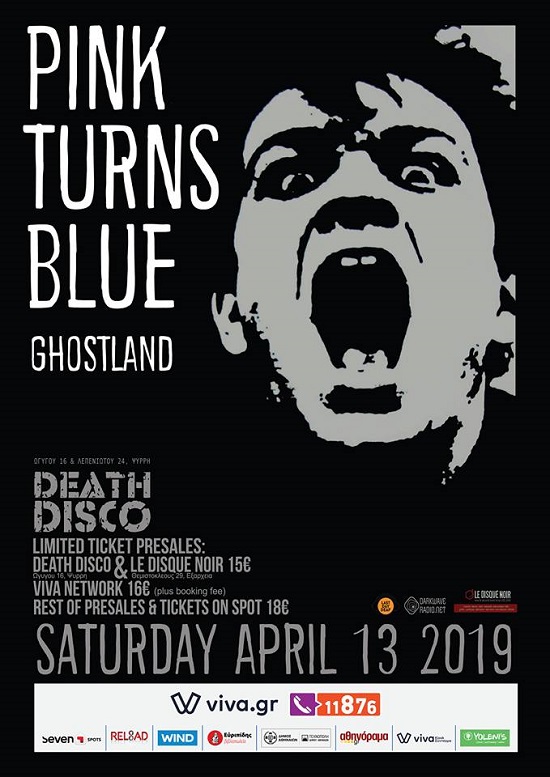 Last Day Deaf is proud to be the Media Partner for the live appearance of German post-punk/new wave legends Pink Turns Blue, almost 18 months after their sold out live show in Athens. The night is going to be pretty special, and the opening band will be the uprising Greek post-punk/new wave outfit Ghostland whose debut 'Dances on Walls' received critical acclaim (Manic Depression Records).
This Saturday only at Death Disco! Your (dark soul) is calling!
Autumn 2017 playlists : Pink Turns Blue – 'Your (darkwave) is calling'
Pink Turns Blue
Pink Turns Blue are an influential post punk / new wave band from Berlin, Germany.
Formed in 1985, they quickly put out their first LP, If Two Worlds Kiss (1987) expressing a sound reminiscent of new wave with very dark undertones and use of synthesizers, only to become one of the pioneers of the developing subgenre of first darkwave (Meta 1988) then cold wave (Eremite 1990, Aerdt 1991).
After many hits like "Michelle", "Walking on Both Sides", "Your Master Is Calling", "The First", "I Coldly Stare Out", "Touch the Skies", "Catholic Sunday", "Missing You", "If Two Worlds Kiss", "Moon" and "Seven Years", they split up in 1995.
In 2003, they reformed to appear in a few festivals. Because of the success of the reunion, they released a Best Of album called Re-Union, in 2005 their studio album Phoenix and in 2017 "Ghost". The latest Album is called "The AERDT – Untold Stories".
Ghostland
Post-punk/new wave band based in Athens, Greece that formed in 2015 (Makrina: vocals, Nikos: bass, Argyris: guitar,programmed drums & synths). Later in 2016 their recording engineer Stavros was added to play the synth parts live. They have performed several gigs in Greece, mainly in underground events. Their debut LP "Dances on Walls" is out on the french indie label Manic Depression Records.