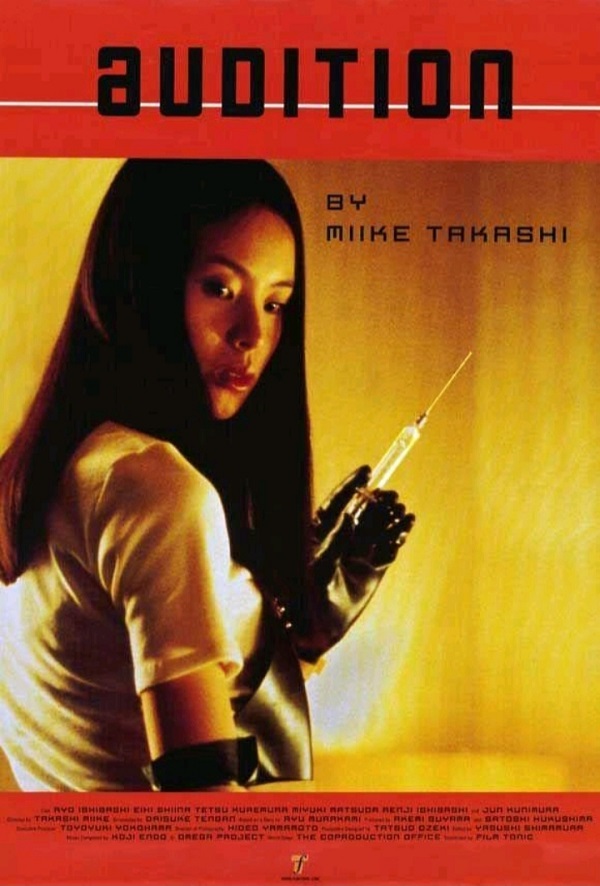 Japanese auteur Takashi Miike exploded into international consciousness back in 1999 with the bold, unique, controversial, and shocking "Audition". After well over 100 films many, me included, still regard it as his masterpiece. With 2020 marking the 20th anniversary of his breakout film being unleashed on the world now seems the perfect time to revisit this ground-breaking, iconic, genre defining movie.
Based on the 1997 novel by Ryu Murakami and adapted by Daisuke Tengan, "Audition" (Ôdishon) follows a lonely Japanese widower, Aoyama, whose son is planning to move out of their home. Aoyama expresses his sadness to a friend, and fellow film producer, who becomes inspired to hold an audition for a non-existent movie so that they can select a new potential bride. Aoyama eventually becomes enamoured with one particular young woman, Asami.
Miike initially became attached due to Murakami's 1980 novel "Coin Locker Babies" having a big impact on him, of which he wanted to make a film. Murakami was reportedly so impressed with 'Audition' that he gave Miike his blessing to adapt "Coin Locker Babies". Sadly it never materialised due to funding difficulties.
Realising that the novel 'Audition' was a love letter Miike knew he could make a film of it. Murakami had directed a movie, auditioning many actresses, and Miike felt he possibly fell in love with one of them, ultimately serving as the novel's inspiration.
"Audition" is in essence a reflective meditation of loneliness and past events shaping a person. Its biggest strength is the first two thirds play out like a romantic drama, with all the tropes used, yet very knowingly. To be perfectly honest my first watch 20 years ago I was getting a little bored by this point because, as much as it was engaging, it did not seem to be the expected horror film, of which Miike has stated on many occasions he does not feel "Audition" is. However, make no mistake this build up was absolutely purposeful. A marvellous example of Miike's brilliance on full show, highlighting his total cinematic command. The aim was to lull the audience into a false sense of security, and that is his master-stroke. A magnificent balancing act that very few film-makers could accomplish.
Sprinkled throughout in juxtaposition to the serious, thoughtful tone is some well placed jet black humour, a Miike trademark. Beautiful mise-en-scene, framing, precision of every shot, and cinematography intensifies every aspect, particularly the feelings and emotions of the characters. Many scenes being shot in real locations add an extra layer of realism, which was clearly Miike's intention, so making what follows far more disturbing. Quite frankly revealing anything further would spoil what shockingly unfolds for those that have yet to experience this extraordinary movie.
The outstanding cast is anchored by the memorable lead performances of Ryo Ishibashi as Aoyama and Eihi Shiina as Asami. When casting Miike always has an idea when the decision is made to make a film, saying "The first impression on seeing the actor enter the room is what influences my casting decision. Their negative qualities do not matter. I am not worried about their career. I just think "Have I found them."
Miike had long admired Ishibashi from the actor's rock band days. Having played a similar character in a previous film and the chance to work with Miike were the main reasons Ishibashi accepted the role. Miike wanted him to bring his rock band qualities to the character. His only instruction being to act naturally, which certainly comes through in his refined performance.
Auditions were held for the female lead, and as soon as Shiina walked in Miike knew she was the one and could tell "she's living life her own way like her character." Proving his instinct served him well with her scintillatingly understated portrayal, showing more with a look, gesture, and the way she carries herself than words ever could. It is near on impossible to believe she had very little acting experience prior to 'Audition' with the assuredness of her performance. Shiina says she interpreted the role as Asami was trying to fill a void, and hence did not play her over the top, but more naturalistically. She never considered it a horror movie, feeling that is why she perfectly emoted Asami's character arc. With people expecting her to be like the character when they meet her she feels it shows she played the role convincingly, which is very hard to disagree with.
Miike's says his experience with "Audition" taught him that by working with good writers he could take the ability of the author, which is very different to his own, feeling that if a director has too many abilities maybe another would be cancelled out, so leading to making similar films and having a certain defined style. Miike explained he would find that boring, preferring to be "flat as it is better to commune with authors and stories. I'd rather use the ability from that than have a sleeping ability. In that way I can encounter many people and I can make a wide variety of films. When I made Murakami's 'Audition' it stood on it's own merits, and if it was interesting enough it would freely gain an international audience. Meaning if we work with a good writer we can see ourselves in a different light. So the story of 'Audition' told me those things."
Ultimately Miike absolutely refuses to be typecast, he does not consciously follow a way of making films as some film-makers do to get their style through because it is not for him. He further elaborated saying "Also I am not self-aware. It does not matter if it is manga, novel, etc." Saying he is "simply a slave of film itself. I really just work as a film director, innocently, to the best of my potential. In that way it was true that I could feel and learn lots of things from Audition." Adding "Still my representative film is my next. So I believe the most important work will be in the future. I know 'Audition is one of my past treasures, however, it would be nice to start again without strictures gained from that film."
Miike did not expect "Audition" to be screened outside of Japan, never knowing which of his films will have an international appeal. All his movies are made for himself without worrying about the Japanese and overseas audiences, so the unexpected success makes 'Audition' a special film for him. It opened the door to give him the freedom to make whatever he chooses to this day.
Although in hindsight he wonders if he let his audiences down with his follow up "Dead or Alive". Everybody wanted to know what was next after "Audition", in that style, but in reality it was completely different. However, that made it difficult to get into international film festivals because "everyone expected the next 'Audition.' That is your type of film." Of this he thought "Don't typecast me. But in fact it is the audience who decides. It is a truism to be successful with the audience and the film festival directors. I am thankful to the audiences who watched 'Audition,' and I do not doubt them."
Ishibashi feels the success of "Audition" was due to its exploration of human nature, transcending the horror genre unlike any other movie. Even when reading the script he felt it was going to be unlike any other Japanese film. He believes the huge success in the West was because it was "not just a horror film," due to the perfect balance between the artistic and entertainment aspects, which appealed to both American and European audiences. Shiina considers its success was due to the timing, the story, the casting all being good, and many elements incorporated well.
To this day its influence is still felt, acknowledged by countless film-makers as an inspiration. Among them Eli Roth with the "Hostel" movies, particularly the sequel and its more artistic, substantial approach; giving birth to the 'Torture Porn' genre, which "Audition" certainly is not. Miike himself actually appears in a brief cameo in the first film.
Due in no small part to "Audition" Miike will forever be synonymous with horror and extreme cinema, even though that is only a small fraction of his output. Nonetheless, he does like the tag "violence and horror director," finding it fun because he says that he is not like that at all, but tries to act like he is.
'"Audition" is one of my favourite Miike films, and as an introduction to one the all-time great film-makers it is the perfect place to begin to experience his unique genius.
*Credit and huge thanks to the superb Arrow Video blu ray release and their invaluable interviews in compiling this article*
Karl Franks