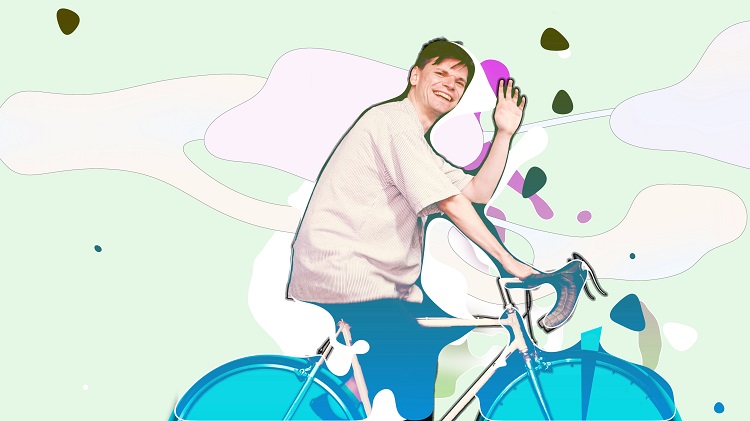 What inspired you to first start making music? And how did you come to be in your current incarnation? Or if you prefer, a brief bio about you.
I took up piano in my pre-teens and tried to learn themes from Final Fantasy! A few years later I sang and played keys in a band with some friends, we liked bands like Pixies, The Smiths and New Order but only managed to play one gig in my garage (some of our demos are still online… but I won't say where!).
Around this time I was also getting into electronic music, production and DJing – probably influenced by my older brother (electronic musician Miles Courtney), who would sample mine and my sisters' voices in his breakcore tunes when we were little, getting us to say creepy things like "all your children are dead" (mum didn't approve…). This interest eventually led me to study Music Tech at uni and it was whilst studying that I properly began performing and releasing music as a solo artist.
Provide us with some info about your latest release…
This video was shot pre-lockdown on a lovely summer day on Stourbridge Common in my native Cambridge. The director, Rhys Votano, also made the videos for "Impatient" and "My Nose Is A Little Runny" and had a memorable appearance in the latter. He's a top bloke!
"Belly Slaps" first appeared on the Ado Perma EP and features backing vocals from Jules Gawlik (also a very talented graphic designer who's responsible for a lot of my release artwork and gig posters). There seems to be some confusion about the origin of the song's name, I'd rather keep that a mystery…
Which ones would you consider your main influences both music-wise & non-music-wise?
Robert Smith, Damon Albarn, David Lynch and Dennis The Menace.
In what way does your sound differ from the rest genre-related artists/bands and why should we listen to your music? In other words, how would you describe your sound?
I think there's an element of humour in my music that people enjoy. The songs are catchy too!
Please name your 3 desert islands albums, movies & books…
Albums: Seventeen Seconds – The Cure, Glass Swords – Rustie, Days of Bagnold Summer soundtrack – Belle & Sebastian (love the film too!)
Movies: Human Traffic, Twin Peaks: Fire Walk With Me, Who Framed Roger Rabbit
Books: Concrete Island by J.G Ballard, Swarmer by Todd Noy and an issue of Beano.
Do you prefer studio or performing live and why?
Miss performing so much! Recording can be magical but i prefer it when collaborators are involved.
Is there any funny-unique story you would like to share with us, always in relation to your music 'career'?
When I played my first London show in 2019 supporting the amazing KNIGHT$ on Halloween, I'd decided to wear skeleton face paint in the style of the Ado Perma EP cover. During my performance the paint started running down my face and caused terrible irritation to eyes – I had to stop and ask the audience for tissues. The show was a success though!
Which track of your own would you point out as the most unique and why?
Maybe "Email Song" from the Collabavirus charity compilation (which came out last year). All the lyrics are taken directly from angry emails that were sent to people I know.
Would you like to share with our readers your future plans?
More singles and collaborations coming out this year, most excitingly… My debut album!
Free question!!! (Ask yourself a question) you wish to answer and haven't been given the opportunity…
Any relation to Leo Sayer?
No… Not that I know of!
Curated by: Christos Doukakis
Recommended listening:
.
.
.
Connect with Theo Sayers: