What inspired you to first start making music? And how did you come to be in your current incarnation? Or if you prefer, a brief bio about you.
There are a few artists and thunderbolt moments that are to blame for nudging me down the music path. The first one that comes to mind is when I happened upon a cassette tape in the attic of my childhood home when I was twelve. I popped it into my Walkman (yes I'm that old) and went for a stroll through the meadow behind my house. The tape was Simon and Garfunkel's Greatest Hits. The opening song was The Sound of Silence. I was totally swept off my feet. The songs were so beautifully crafted and the narratives so vivid. That album really set the standard for me in terms of musicalized storytelling and word-crafting.
Running Red Lights has been together for 15 years, which is a lot of reincarnations. It would take more than a few words to bring you up to speed. We've mutated quite a few times over the years, we can be quite fickle and are easily excited by modern music and synthetic sounds. However, though we may moonlight now and again, we always tend to return to our roots which is somewhere between Folk and Indie Pop.
Provide us with some info about your latest release…
Flower in the Concrete is the first single in our sendoff series. It is a warm and fuzzy mid-tempo springtime empowerment jam. The song's roots synthesize classic-country verve with dreamy soft rock ( think Kasey Musgraves).
The song has taken on a few identities since it was written 4 years ago. It was originally conceived out of aspirations to become better people and also as an attempt to get out from under the dark cloud of negativity that marked that period. Now it's transformed into an encouraging message of hope and perseverance. It is a fitting message in these troublesome times.
Which ones would you consider your main influences both music-wise & non-music-wise?
Sylvia Plath, Charles Bukowski, Elvis Presley, Dolly Parton, Simon and Garfunkel, Joni Mitchell, Leonard Cohen, Bob Dylan, Ryan Adams, Jim Croce, Margaret Atwood, Fleetwood Mac, Harry Nielson….the list goes on and on really.
In what way does your sound differ from the rest genre-related artists/bands and why should we listen to your music? In other words, how would you describe your sound?
Describing a sound is a difficult assignment. I have always struggled with this question. I'm sure in some respects our sound doesn't differ all that extremely from artists in our related genre. We are, however 4 unique individuals with 4 unique experiences and stories, all with varying geographical, economical, educational, literary and musical influences. Therefore, this one-of-a-kind combination cannot be replicated. Also the blend of my country-oriented vocal style with Kevin's soulful R&B JT vocal style is definitely a signature. Lastly, there is a lot of attention paid to the crafting of lyrics which is something that often gets overlooked in pop music. So if you're someone who enjoys words, poetry and music with some literary value then you might find something you like in our music.
Please name your 3 desert islands albums, movies & books…
Albums: Bearer of Bad News (Andy Shauf), Blue (Joni Mitchell), Gold and/or Heartbreaker (Ryan Adams)
Movies: Love Actually, Elf and Big
Books: The Picture of Dorian Gray (Oscar Wilde), The Bell Jar (Sylvia Plath), Burning in War, Drowning in Flame (Charles Bukowski)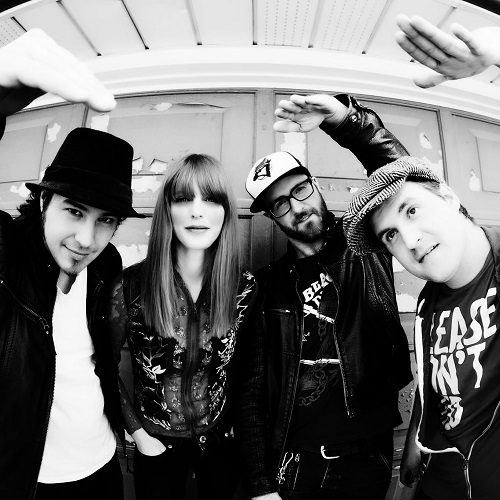 Do you prefer studio or performing live and why?
Definitely live. Recording in the studio can feel like such a mechanical process. It's difficult to capture a song's emotional intention when it's being broken down to a math equation on a grid and microscopically stitched together. The studio is also absent of the most essential ingredient in all of art and that's an audience or more specifically, human connection.
Is there any funny-unique story you would like to share with us, always in relation to your music 'career'?
Hmmm. Again, the band has been together for 15 years and we have spent A LOT of time on the road together. There is no shortage of funny stories. There's the story of the time I met Ryan Adams, whom at the time was my biggest influence and inspiration. Suffice it to say the encounter did not go well. He was making his leave at a back-stage after party that followed his Toronto performance at The Opera House. Realizing that I was missing my opportunity to meet my HERO , I pulled the back of his shirt with such force that it spun him completely around. Face to face and no choice but to acknowledge me, he politely extended his hand for me to shake. I could not react. I was totally star-struck, speechless, motionless and of course very embarrassed that I had essentially just assaulted a celebrity. After a terrifying moment of awkwardness he complimented my prevailing taste in what he referred to as my 'pantaloons' and cooly walked away.
Which track of your own would you point out as the most unique and why?
Unique relative to a melody? a Lyric? There are songs that we have that I would consider to have a unique lyric or a unique melody, or maybe a unique riff or was conceived in a unique way. But not necessarily with all those elements combined. I guess the songs that I always find to be the most interesting are the ones that seem to have been written 'through me' rather than 'by me', such as Hero Butterflies or Salt.
Would you like to share with our readers your future plans?
The band is retiring after 15 years. We are dropping 3 more singles in the Summer 2020 and thereafter the band will continue as RRL Entertainment (a professional entertainment company) but will no longer be actively writing or performing original music. Kevin and I are currently developing a conceptual Pop project called Wolfville that will be released in 2021.
Free question!!! (Ask yourself a question) you wish to answer and haven't been given the opportunity…
Having laid so much of your life out for public ears, do you look back on some things and wince?
There is a lot of material I wrote in my early years of development that I now refuse to listen to because it makes me grimace. These are songs that I was writing in active imitation of someone else. They are so disingenuous and untrue to who I am. It's the nature of learning and growing of course but I feel a bit like an exposed sausage. No one wants to know or see what goes into making a sausage and yet there it is for all the world to see FOREVER.

Photo credits: Joseph Fuda
Curated by: Christos Doukakis
Recommended listening:
.
.
.
Connect with Running Red Lights:
INSTAGRAM: www.instagram.com/runningredlights
FACEBOOK: www.facebook.com/RunningRedLights
YOUTUBE: .youtube.com/user/rrlmusic
SPOTIFY: https://open.spotify.com/artist/5EaFa7JDtqe7byktC9KD1V
WEBSITE: www.runningredlights.com
TWITTER: @rrlmusic