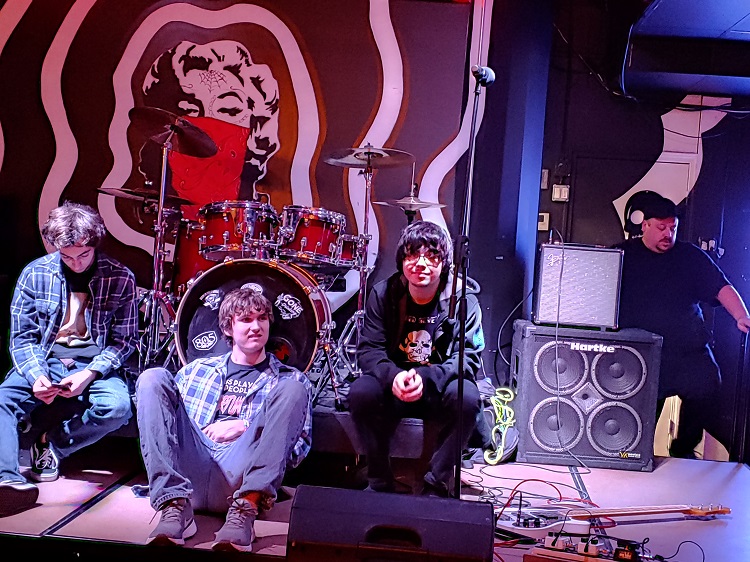 Luke (bass) [L]
Nick (guitar/vocals) [N]
Matt (drums) [M]
What inspired you to first start making music? And how did you come to be in your current incarnation? Or if you prefer, a brief bio about you.
Luke: I was inspired by watching The Who on Smothers Brothers. And Tiny Tim live on Johnny Carson. I meet Nick and Matt on Tinder.
Nick: I was inspired by the one and only Kurt Cobain of Nirvana, if you couldn't tell. To me, Kurt and Nirvana proved that anyone can create music as long as you have passion. There's some truth to that, people recognize passion when they see it. I met Luke on tinder and Matt because he was my wife's boyfriend.
Matt: I was inspired by metal drummers from both past and current generations of the metal genre. From the likes of Lars Ulrich to Jimmy "The Rev" Sullivan, I've grown accustomed to their drumming styles. I was never into punk before I was in this band and had to learn the drumming styles of punk drummers. My main inspiration for my punk style was mainly Tre Cool because my parents were Green Day fans. Although I didn't wanna do traditional punk drumming for this band in which I decided to fuse together my punk and metal drumming styles.
Provide us with some info about your latest release…
[L]: Its called Spongy. And its our first full length thats not a demo
[N]: It's an album made by weirdos for weirdos. We clearly didn't have a clue what we were doing when we made it but hey, it's out there.
[M]: I'd say it's like Nirvana and Green Day had a child and it was this album. We drew our influences mainly through them and that's how this album was made.
Which ones would you consider your main influences both music-wise & non-music-wise?
[L]: Musical influences are: The Who, Led Zeppelin. The Sex Pistols, Primus, Blondie, Talking Heads, The Go Go's, Eminem, The Beatles, Black Flag, Black Sabbath, Muddy Waters, Howlin Wolf, Bob Dylan, Alvin and the Chipmunks. Non-muiscal: Michael Jordan, Jesus, John Steinbeck, J. Patrick Guzman, George Orwell. Sammy Sosa
[N]: Well this is kind of a big question. I'd probably choose,Nirvana (Obviously), Black Flag, Minor Threat (Pretty much any punk band :D), Van Halen, Green Day, The Smiths, Tyler the Creator, Denzel Curry, Sylvia Plath, Charles Bukowski, William Wordsworth and Lady Gaga.
[M]: Avenged Sevenfold, Metallica, Megadeth, Green Day, Nirvana, Twenty One Pilots, Slipknot, Trivium.
In what way does your sound differ from the rest genre-related artists/bands and why should we listen to your music? In other words, how would you describe your sound?
[L]: We're still developing our sound. It's still pretty derivative of our influences. But the new unrecorded stuff is sounding more like ourselves.
[N]: Well, like lukifer said, we are still developing our sound (hint hint nirvana). You can't help but mimic your influences but its how you develop and grow. But I do believe that the more influences you have the more diverse you'll become and that seems to be the case with our newer material and the band in general, at least I hope so. I feel as if the appeal behind the band is that we don't take ourselves seriously. We don't try to put on some kind of act. We are who we are and we just enjoy making music to whomever is willing to listen.
[M]: I'd like to say that our sound is all over the place and that we're not stuck to one particular genre. We like to sway between punk, grunge, hard rock, and even metal sometimes.
Please name your 3 desert islands albums, movies & books…
[L]: Albums: Mezmerize/Hypnotize (SOAD), James Brown Live at The Apollo, Led Zeppelin II.
Movies: Goodfellas, The Godfather, This is Spinal Tap.
Books: The Torah, The Quran, The Bible
[N]: Geeez, you're really limiting these down aren't ya? Alrighty den, Albums: Nirvana "In Utero", The Smiths "The Queen Is Dead", Tyler The Creator "Flower Boy".
Movies: Scott Pilgrim vs the World, The Nice Guys, The Room.
Books: US history till 1865, Mathematics Pre Algebra volume III, Governing Logistics of Literature.
[M]: Albums: "City of Evil" Avenged Sevenfold, "The Last Stand" Sabaton, "Countdown to Extinction" Megadeth.
Movies: Revenge of the Sith, Godzilla (2014), The Poseidon Adventure (1972).
Books: Jojo's Bizarre Adventure Part 3, Death Metal Music, So Let It Be Written: The Biography of Metallica's James Hetfield.
Do you prefer studio or performing live and why?
[L]: Live. It's more fun to see people dance and I can make fun of the audience while I make an ass of myself. It's all about the atmosphere!
[N]: Definitely live, while both are incredibly fun, Live definitely has a different appeal. It seriously means the world to us to see people have fun simply by listening to what we have to put out to the world. It is always an amazing feeling to see the audience has as much energy as we do.
[M]: Personally I prefer the studio over the live shows. Don't get me wrong, playing live shows is amazing and I love it a lot. It's just that the studio has a lot less stress than playing live. In a studio you have the ability to practice and do redos of everything, but during a live performance it seems like everything has to be perfect in order to please the crowd.
Is there any funny-unique story you would like to share with us, always in relation to your music 'career'?
[L]: Last summer, we had 2 shows 2 days in a row, one about an hour away, the next in a neighboring state. We were supposed to go up to the 2nd show with our friends from another band and stay at their house after the first show. But they never gave us an address to drive to. We gave up on them after they never responded. So we went out to eat with another band. Their place had no room for us to stay. But they were nice enough to help us get a hotel. We called up a few to make sure they allow people under 21 to book a room. Most said they didnt. So we went to one of the places that did. Once we got there, their answer changed. So we went to a Holiday Inn across the street. And they didnt allow us at first either. But after some convincing they let us stay for a higher rate. And we got our room at like 3 in the morning. And we had to leave for the next show at about 10. The show ended up being a bust and the other band that we were supposed to drive up with dropped out of the set. Thank you to Green Easter for staying with us!
[N]: I remember one time we got booked at this really sketchy show that didn't have much information about it besides the date, time, and location. When we finally arrived at the place we found out that it was at a veterans hall which probably is not a good place to book a punk band let alone a whole show of bands. But needless to say we played the show which obviously turned out to be a bust. However, at the end of our sets we (me specifically) like to destroy our equipment all for good fun. So after the set, when we finished what we were doing, the people were not happy with us, even though we did zero damage to the venue or any sound equipment. The only things that were damaged were our own equipment. Long story short, we were kicked out of the venue 😀
[M]: I don't have a funny story to share unfortunately but I always think it's funny how Luke attempts to entertain the crowd while Nick tunes his guitar between every song.
Which track of your own would you point out as the most unique and why?
[L]: Probably Hidden. It's a change of pace for us bois
[N]: Probably Hidden. It's a change of pace for us bois
[M]: Probably Drown. It's a change of pace for us bois
Would you like to share with our readers your future plans?
[L]: Working on plans for a split with our friends from Muddle
[N]: This is true, we have a split coming up really soon with some awesome musicians from Muddle, please look them up they deserve the love.
[M]: Yeah, we have a split album coming up.
Free question!!! (Ask yourself a question) you wish to answer and haven't been given the opportunity…
[L]: Q: Are we not men?
A: We are DEVO
[N]: Q: Will I live past 27?
A: Probably not
[M]: Q: Are you a gamer?
A: Yes I am a gamer

Curated by: Christos Doukakis
Recommended listening:
.
.
Connect with Confusion:
Facebook: https://m.facebook.com/ConfusionPunk/
Instagram: https://www.instagram.com/confusion.bandd/?hl=en
Spotify: https://open.spotify.com/artist/63hdBveUFteIBPQkDy9iFd?si=1dswsHvoQgGgFuaNGxFzUA
Bandcamp: http://confusionpunk.bandcamp.com/album/spongy
Apple Music: https://music.apple.com/us/album/spongy/1524222702